I know a lot of you like my photography so I've started summarising the best photos of the month at the end of each month. If you're interested in seeing some more of them, then have look at: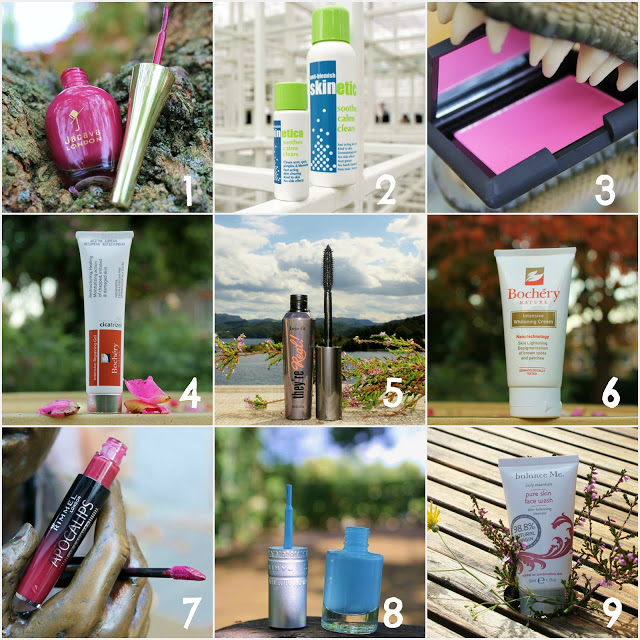 Believe it or not, a lot of thoughts were put into these pictures; the backgrounds were not chosen randomly!
1. Jacava London 8-free Nail Polish
– this polish is basically as healthy as you can get in terms of nail polish standards. Therefore, I chose an "organic" background and I think the brown colour of the tree really creates that contrast with the pink nail polish shade.
2. Skinetica Anti-Blemish Toner
– why the structural looking background? The formula for
Skinetica
isn't based on natural ingredients (thus no trees or flowers), nonetheless the formula still stands strong and the ingredients synergistically make a strong standing product, just like a building or a rigid structure.
3. Smooch Cosmetics Blusher in Sugar Rush
– one of my favourite photos. Nope, I didn't visit Jurassic Park. This sweet little dinosaur lives at a garden center in London. I chose this setting based on the fact that I found this blusher rather daring and so is this dino!!
4. Bochery Nature Cicatrizel Gel
– I wanted something natural looking with a touch of Greek architecture for this image in order to capture something about the natural ingredients and the origins of this Bochery Nature. It's resting on a fountain (Greek – not on when I took the pictures) with some green leaves (+ nature) in the background.
5. Benefit They're Real Mascara
– because of the name "They're Real", I wanted to chose a massive, almost surreal background! I thought the background I chose looks gorgeous and almost a little surreal! Shame that I can't find something like this in London!
7. Rimmel Apocalips Eclipse
– the idea behind this is quite similar to no. 3 with a daring aspect to it! The bronze statue of the little girl was found near Kings Road. She had her hands out and I knew at that moment that "she should have my lipstick". Or as
Angelica
suggests "
French Girl with a Cigarette
".
8. T.LeClerc Nail Polish in Rivage
– I took this photo during the summer when it still looked sunny outside. Surprisingly enough, not much thought were gone into this one. I just like the fact that the colours blend very well and the blurry green leaves looks like big glitter pieces.
9. Balance Me Pure Skin Face Wash
– the colours "balance" out very well… get it? Which makes the setting very calm and tranquil. Nonethless, the flowers act to bring out some subtle colours to the lifeless background. It's all about creating the right "balance".
I hope you like these photos! Feel free to comment on your favourite 😉
;