New Look
is currently running a blogger's competition on their
website which involves re-creating your favourite 2013 Red Carpet look as a Christmas party outfit . You can read about it on their website under
Christmas Red Carpet Competition
.
"To get involved:
Find a picture of your favourite red carpet look of 2013
Tell us why you have chosen this outfit and present it to us
in a blog post
Copy the link to your post in the comments box below, along
with your name and email address
So I thought I should give it ago because I need a new dress
for New Year. Everything's worth a try!"
After hearing about this, I thought I should give it ago because I need a gorgeous new dress!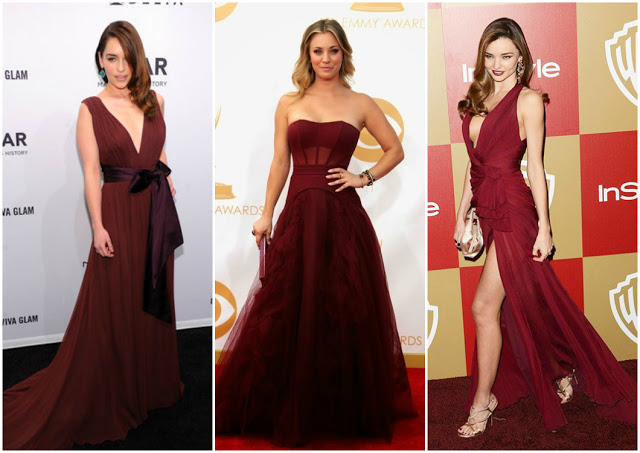 I started by gathering some photos of some of my favourite celebrities
rocking the maxi burgundy look on the red carpet! Don't they all look
gorgeous!! Yes, I'm "a little" obsessed with Miranda Kerr's look!!! I also
approve of the choice of gold and black to go with the dark red.
In the first photo, Emilia Clarke is wearing a Zac Posen gown with some green earrings at the amfAR Gala in February. In the middle, all eyes are on Kaley Cuoco and her beautiful Vera Wang gown at this year's Emmy Awards. Lastly, Miranda Kerr is wearing a Zuhair Murad gown at the Golden Globe Awards and all I can say is that I want a pair of legs like those!
Dark Red 15-in-1 Maxi Prom Dress – wear it as you like!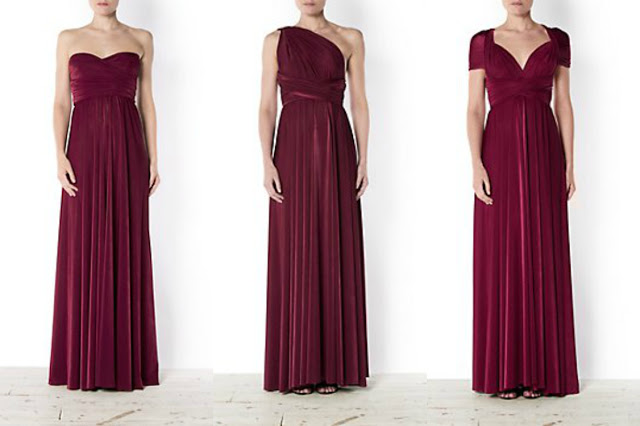 … and pair it with black and gold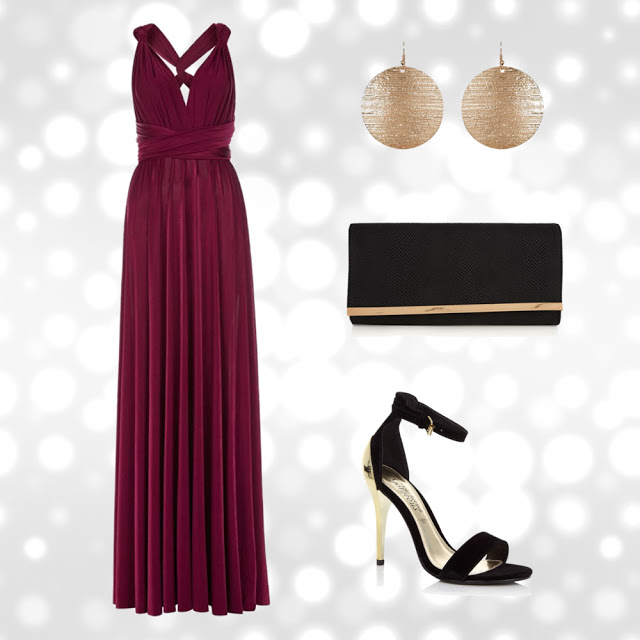 As you can tell, rather than
staying safe with the little black dress as I usually do, I chose to go full
out on a big glamorous look that will get heads turning (away of
course, because I don't look like Miranda Kerr). The dress I picked intrigued
me the most because there are 15 ways of wearing it (I don't
actually know how it works… I NEED to see it!). I would love to wear this to 15
different parties without the feeling of "I've already worn this dress before,
why am I wearing this again!?!"
Because the dress looks so big
and glamorous I thought it would be nice to keep the rest simple! I went with the black ankle strap gold heels and a matching clutch in black and gold as inspired by the chosen red carpet look. Going with the rest of the
minimal approach, I also chose the disc earrings just to add that pretty nice
glow.
Pre-Christmas party, Christmas
party, post-Christmas party, New Year's Party, New Year's after party, Winter
Ball or an important date! Whatever you're going to, all you need is one dress.
🙂
;