Happy Light Foundation
is the first
Bourjois
face product product I tried and since then,
Bourjois
has become one of my favourite drugstore brands. As you might already know, 
Bourjois
has a fantastic range of products at very good prices. I love their face product because I feel that it suits my Chinese skin tone very well! In addition, none of their products have given me any break outs.
Bourjois Happy Light Foundation in Golden Beige (No 53)
and
Bourjois Healthy Balance Unifying Powder in Hale Clair (No 56)
have both been hits, whereas most the other drugstore foundation products I've tried have been a bit of a miss.
"Unifying powder for a matt, radiant complexion and even skin tone. Enriched with exotic fruit therapy to restore and rebalance the skin. Its ultra-fine texture is easy to blend and its feather-light feel makes application easy. Slim compact packaging and large built-in mirror for touch-ups on the go!"
My View:
Colour: I picked up a colour that's just a tiny bit too dark for me, but it still works well and gives me a slight bit of a tan. I think I will go for one shade lighter next time. However, the colour range is one of the downsides of this product because it's only available in four shades: No.52 Vanille, No. 53 Beige Clair, No.55 Beige Fonce and No. 56 Hale Clair (the one I have). The good thing is that it's a setting powder so the colours won't show up too much, so it's ok if you're one or two shades off.
Smell: Most powders nowadays are odourless, but Bourjois Healthy Balance Unifying Powder has a long lasting sweet fruity smell… not fresh of course, because the smell is blended into the powder.
Result: As for the swatches, you can hardly see the colour because it blends so well into my skin; no obvious pigments and no glitter particles. I have combination skin, so this matte powder worked really well around my T-zone; making it less shiny and blurring out the pores. However, it felt a bit dry around my cheeks and emphasised my unwanted expression marks. My personal opinion is that Healthy Balance Unifying Powder works better for oily skin than dry skin, and better in the summer than winter. If you have oily skin but want matte looking skin, then Healthy Balance Unifying Powder is a great choice.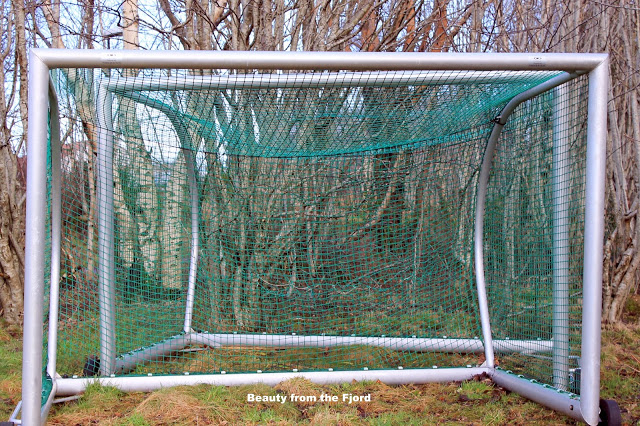 Behind the scene background:
Not a very exciting background, I just really like the colour contrast. The background is a football goal netting and " a blurred" forest. Besides; Healthy = sports, i.e. football, Balance = good balance on a bit of broken net.