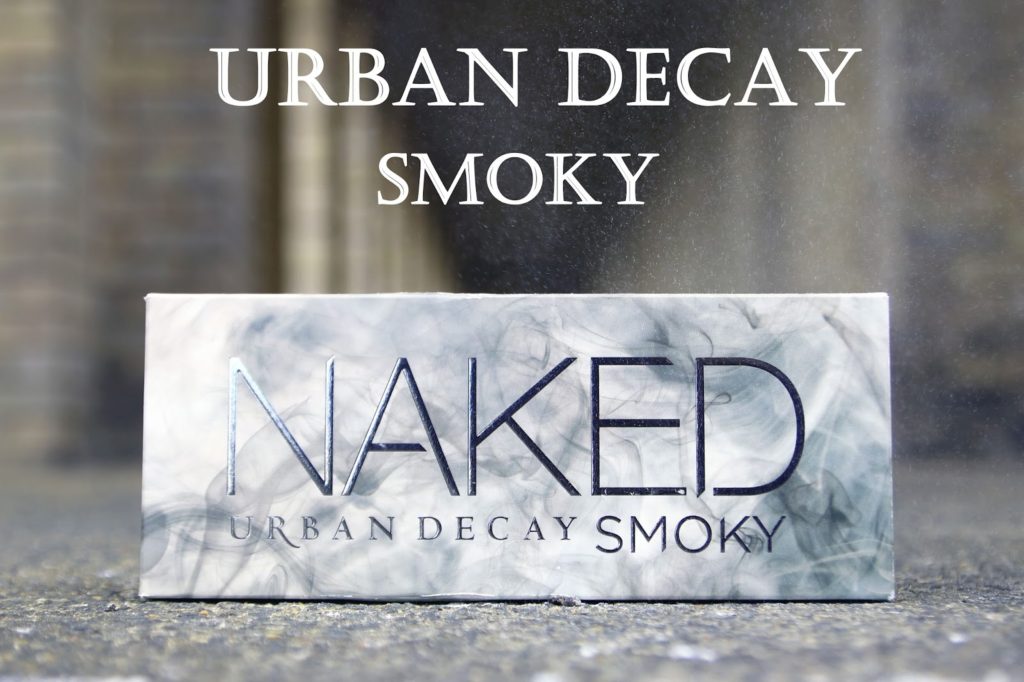 Urban Decay launched a new palette in August (or maybe it was late July) and you've probably seen a lot of blog posts about it already! It's a new addition to the ever so popular Naked Palette range! Although the packaging and theme look very much like the other Naked Palettes… 1, 2 and 3, it stands on its on in terms of naming convention. Urban Decay's gone a little more creative with the branding and called it  Smoky, instead of Naked 4 or something like that. But it makes sense because all good things come in threes. 😉
Absolutely everything about this palette goes with the name! The packaging is designed with a smoky or smokey effect and the shades are themed around blacks, greys and browns.Unlike the other Naked palettes, Smoky keeps all the glittery shades going from light to dark on the left side and all the matte shades going from dark to light on the right. The darkest shades are all in the middle, which is very different from what I've spotted in the other Naked palettes! But it does make the palette look very "balanced".
If you've used other Urban Decay eyeshadows before, then you'll know just how amazingly pigmented these are! There's a lot of glitter and "darks" in this palette, so if you're looking for a more natural look, then you might want to introduce some warm tones from Naked 3. But for a full on "Smoky" look, this is the palette to go for.
Once again, the shades are very strong and I ended up with panda eyes the first time I tested this out, but with practice and a bit of toning down, I managed to create a look that is slightly more presentable. I think creating a set of gorgeous looking smokey eyes is one of the hardest makeup skills to conquer. I'm not amazing at it, but I definitely think that it gets better with practice and I now have something I can practice with. 🙂
This palette also comes with a two ended brush. I really like this brush because it's super soft. However, the tips are really thick so they are absolutely amazing for applying base and blending, but it's not the kind of brush you want to use for precise application, especially when it comes to using these darker shades!
The swatching part is probably what you're most excited about! Dirtysweet is my favourite light shade here because it's got a gorgeous golden tone that matches my skin tone, but I also love Radar for a even more golden look! Armor is also a must for a party look; it's like silver glitter that sits beautifully on your eyelids. I'm also a big fan of Dagger, which was the main shade I used in creating the look below. It's got a blue-greyish tone which isn't as overwhelming as Black Market which is simply black. I haven't used the matte shades as much, but Combust makes a gorgeous base and Password looks great around the creases!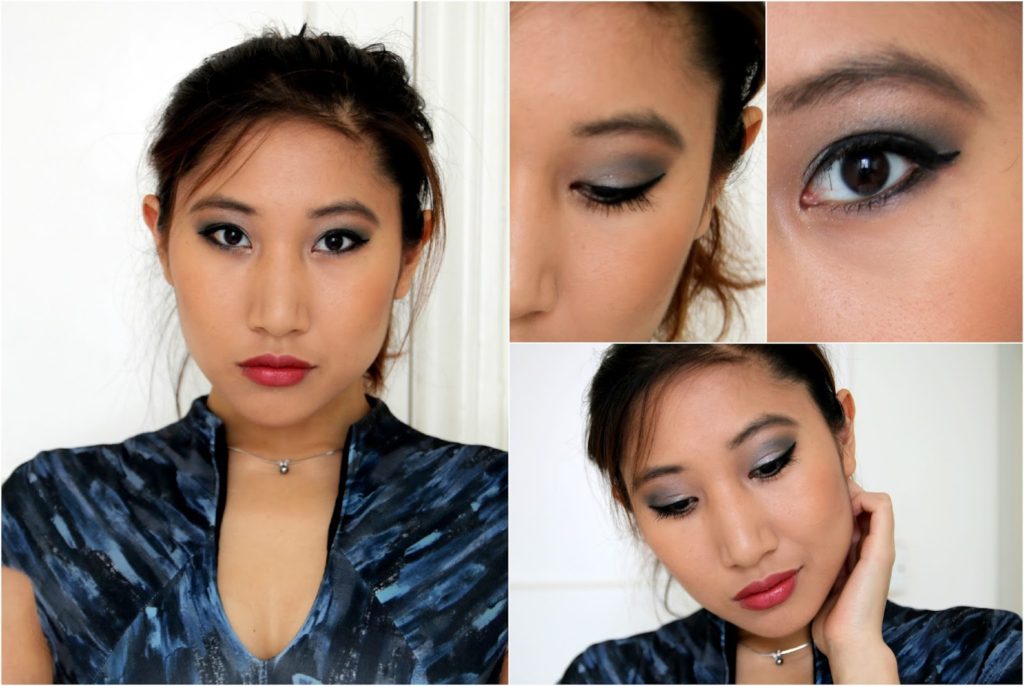 Here's also a smokey eye look I created! I admit that it's not as smoky as the makeover I received at the Urban Decay counter at Debenhams, but it's definitely a heavy look for me as I'm not used to wearing this much makeup, especially greys and blacks. I actually wore this look to #BloggersFestival and I was rather proud of what I've created!
P.S. I tried to created a "smoky" background in the first photo, but I somehow made it look super messy! Can you guess what I used to create the "special effect?" 😛
Disclaimer: I received this product at a PR event, but the views are 100% my own.