As a part of my Christmas present, my boyfriend took me on a
weekend trip to Oxford. Why exactly Oxford? Well, long strong short, last time
we tried to go (3 years ago) we just happened to have bought bus tickets for
the day a snow storm took place. We got no further than Hillingdon, which took
three hours to get to from London.
This time we were quite lucky as we managed to make our trip all the way to
Oxford! Yay! However, rather than being caught up in a snow storm, we were
challenged by non stop rain. I didn't take many pictures of these
"historical buildings" as I'm not ready to ruin my camera with rain
water.
Nonetheless, we ate dinner at this awesome restaurant that I want to blog about. We
came across the restaurant,
The Big Bang
, in
Oxford City and Shire
guide laid
out nicely for us in the hotel room we stayed at.
The Big Bang
specialises in
sausages and mash, which is an awesome idea. I would often say no to
"fatty piggy" food, but as it's a nice weekend away, I tried to enjoy my
food too. 🙂
The Big Bang is situated in Oxford Castle Quarter, which is in itself a beautiful
plaza. From the outside, the restaurant looks very modern and nicely set up.
The interior of the restaurant is simple and classic. However, a lot
of attention were put into the details like scenic oil paintings and newspaper decorated
tables. What intrigued me the most is the menu! I've been to a few restaurants
in my life, but never have I seen a "newspaper-styled" menu with
loads of interesting articles and headlines about the restaurant as well as an
awesome list of things you can eat!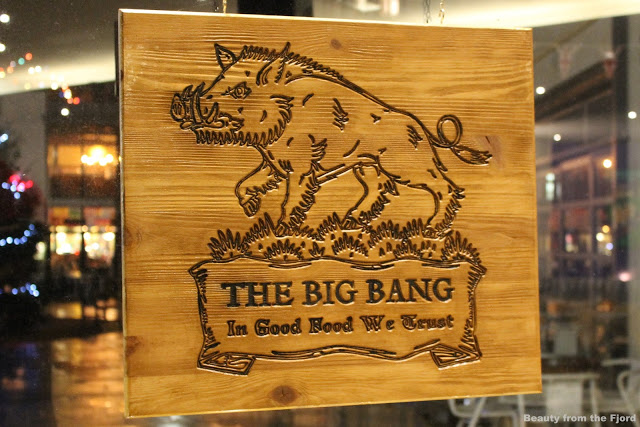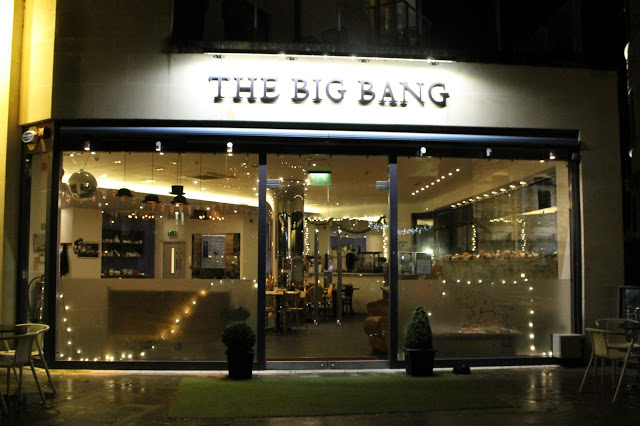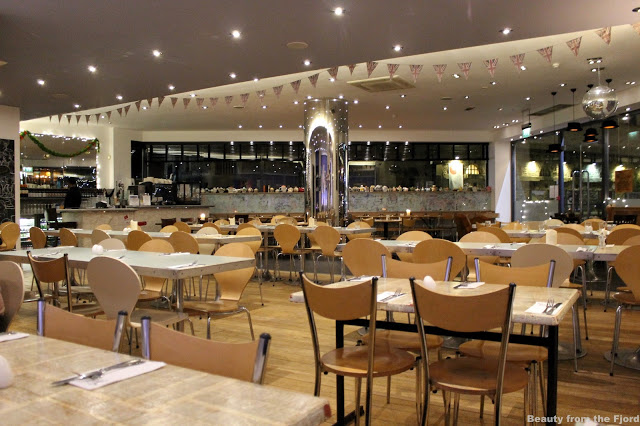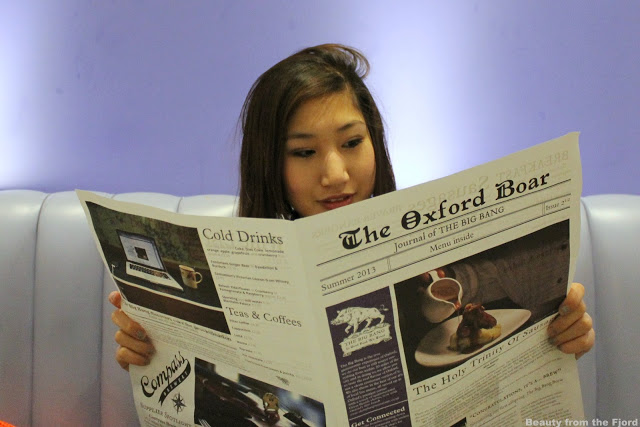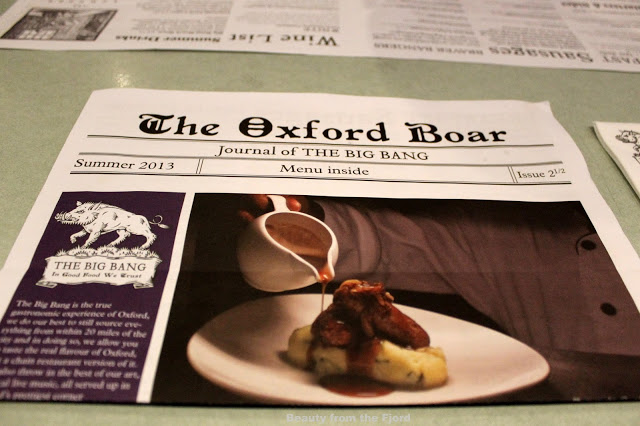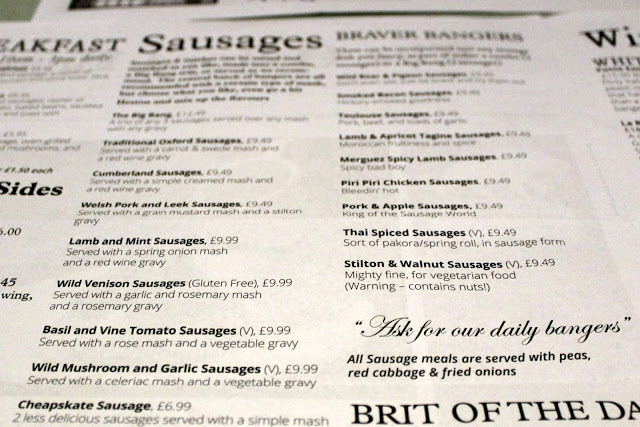 The concept is that you choose two or three different sausages from the menu
ranging from British Classics (e.g. Welsh Pork and Leek, Traditional Oxford) to
Wild Wild West (e.g. Wild Venison, Wild Pigeon) with a vegetarian detour (e.g. Basil and Vine Tomato).
In addition, there is a large collection of mashes and gravies to choose from.
I went for a Turkey and Cranberry Sausage, a Wild Venison Sausage, swede mash
and red wine gravy.
We went rather early in the evening so the restaurant was very empty. The service was
amazing and the food arrived within 20 minutes of ordering, which I was very
impressed with. Yes, the food is just as fantastic as it looks! I'm not a huge
fan of fatty sausages, but I managed to pick two that were both lean and tasty (first picture below) as compared to my boyfriends choice of classical fatty pork sausages (second picture).
The sausages tasted absolutely amazing, especially the turkey and cranberry
one. The red wine gravy added a hint of sweetness to the savoury sausages. In
addition, the pickled red cabbage added a nice sour flavour to the dish. There
was definitely an explosion of all sorts of colours and flavours.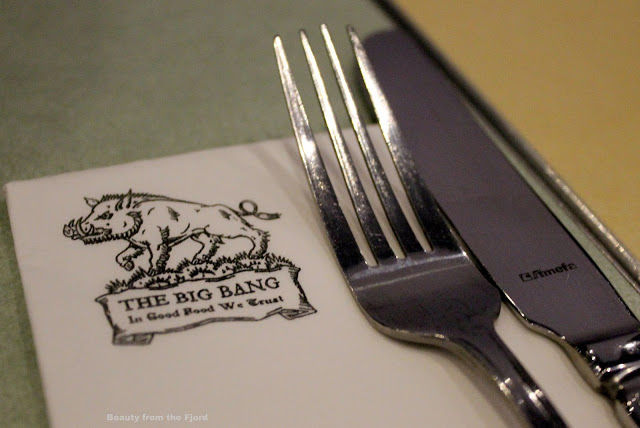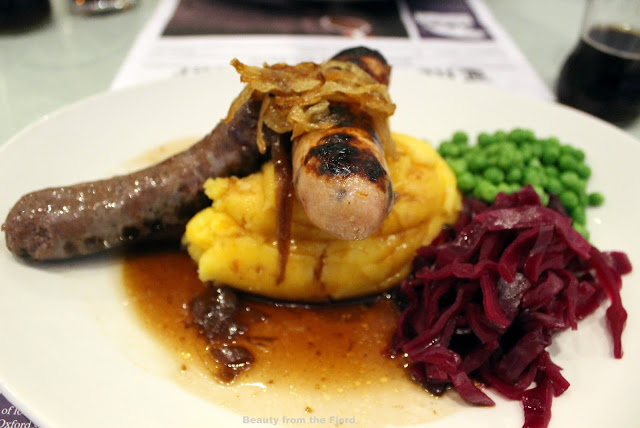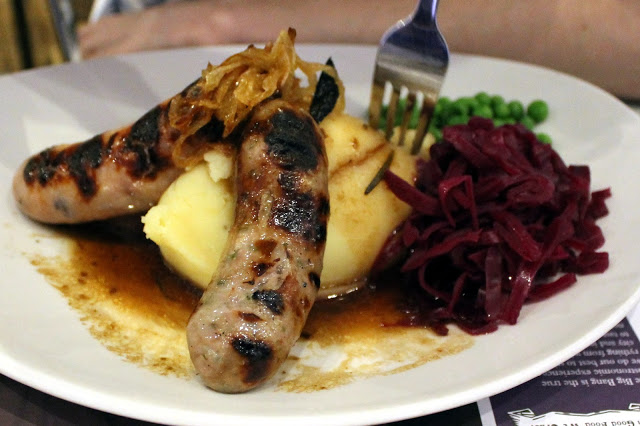 Have you heard of or dined at The Big Bang? If not, I recommend this restaurant if you ever consider taking a trip to Oxford. In my opinion, The Big Bang is a fine restaurant where a modern concept meets traditional British cuisine.