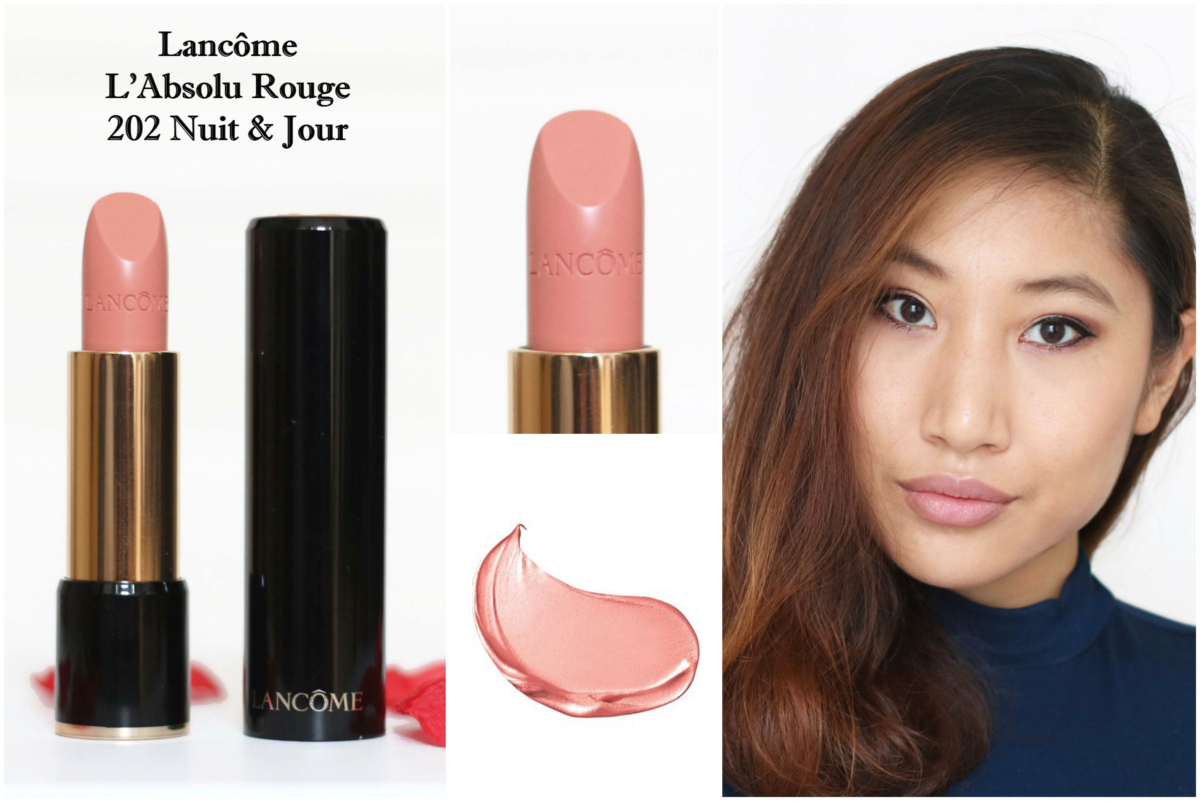 Lancôme recently revamped their most popular L'Absolu Rouge lipsticks to feature a clickable top. The shades haven't changed from the original L'Abosolu Rouge, but rather than pulling the lid off to reveal the bullet (like you would do with any lipstick), you simply click the top to loosen the lid which then slides off esaily from the bullet. Hence #ClickTheRose! It's a little difficult to explain it in words, so you just need to test it out for yourself. 🙂 There are currently 36 shades available, but hopefully there will be even more exciting shades in the future.

Shades
Lancôme L'Absolu Rouge lipstick currently comes in 36 shades, so it pretty much covers the whole spectrum of lipstick shades from nudes to reds! The shade I have here is 202 Nuit & Jour which is one of the lightest from the Lancome L'Absolu Rouge collection. But it's definitely a gorgeous neutral shade with a hint of pink that I can use throughout the day!

Texture
The texture of Lancôme L'Absolu Rouge lipstick is not the same for all shades as it comes in 3 different make-up finishes; Sheer, Cream and Matte. Nuit & Jour is a sheer lipstick, so it feels really silky and smooth upon application. It glides on easily and feels very moisturising on, almost like a tinted lip balm! Overall, it made my lips look very healthy!

Longevity

The sheer finish is buildable & has a subtle long lasting shine. I wouldn't say that the colour lasts all day, but it does seem to survive for a few good hours without looking patchy. Because of the neutral shade, it's not very noticeable when the colour does fade! However, this lipstick does stain on glasses, but the colour isn't as obvious as a bright lipstick!
I love this lipstick and I think the shade in 202 Nuit & Jour is great for everyday wear! This shade is definitely something I would have picked out for myself, so I'm really pleased with it! As this Lancôme L'Absolu Rouge range is meant to be hydrating, I am most intrigued by the matte finish lipsticks. I've often had problems with matte lipsticks being too dry, so maybe this one will be different.
This is the second post in my "Beauty Swatch Book" series. If you want to see more lipstick swatches then feel free to check out: Beauty Swatch Book: NYX Lip Lingerie – 04 Ruffle Trim Review
Can't wait to try these L'Absolu Rouge lipsticks from @LancomeUK! So in love with the shades (Rose Lancôme and Nuit & Jour)! ??#clicktherose pic.twitter.com/4Q2TTBkN8W

— Olivia (@liviatiana) October 27, 2016
*Disclaimer: I received this products for review purposes, but the views are 100% my own.