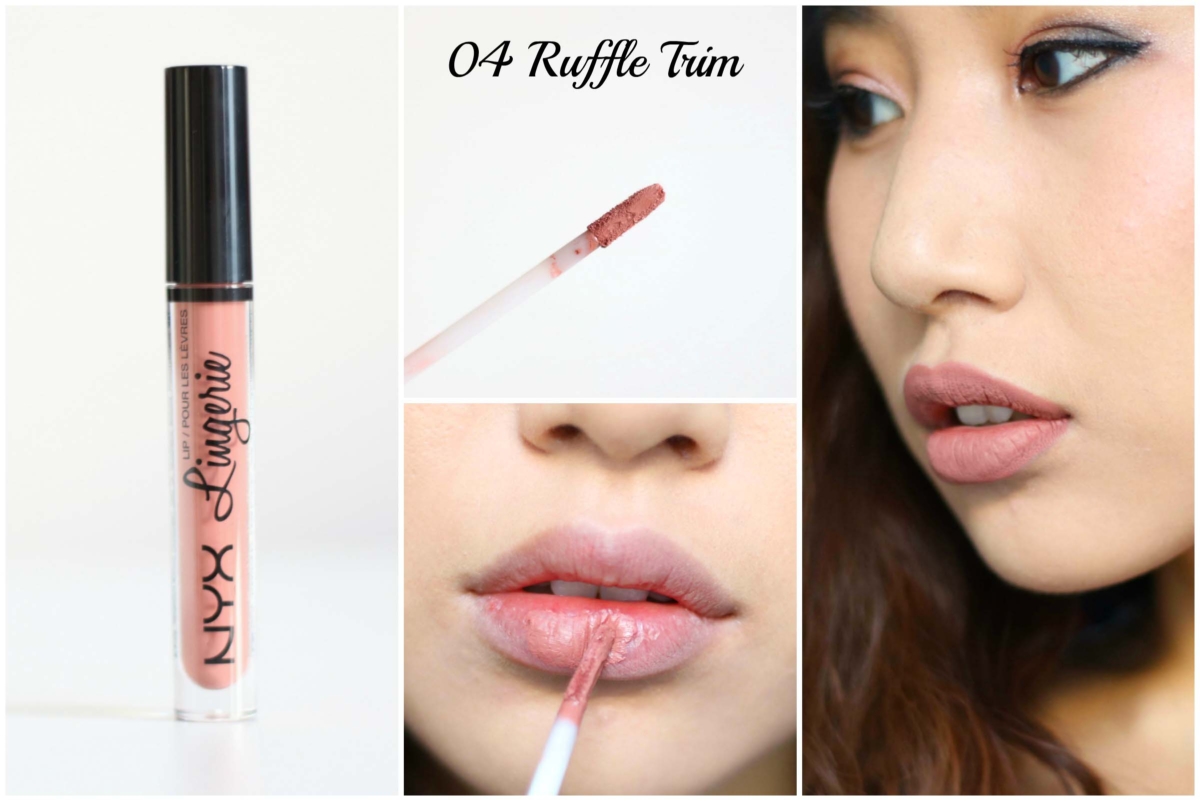 I've been absolutely awful when it comes to writing blog posts and engaging with you guys lately… and when I do eventually write something, it ends up being 1000 words long because there's just so much to say! 😛 Because of that, I've decided to introduce these "beauty swatch book" posts to my blog. This is the first one of many, but the goal is to write a quick and concise review with some basic photos and a simple layout so it's easier for you to find the information you need without getting lost in the text!

Shades
The NYX Lip Lingerie collectioncomes in 12 gorgeous shades. Although the shades range from "cinnamon pink" to "chocolate brown", the base colours are all relatively nude. The shade I have here is called 04 Ruffle Trim which is a warm peachy shade. This shade looks really natural and pretty on yellow skin-tones and is perfect for everyday wear.

Texture
The texture of NYX Lip Lingerie is soft and it glides on easily. The creamy finish makes this lipstick easy to apply and smooth out on the lips. The thinly shaped applicator also makes the application simple and precise. Despite the creamy texture, the finish is matte and flawless. However, this lipstick does feel a little bit dry and slightly uncomfortable.

Longevity
I'm surprised by how long NYX Lip Lingerie stays on. It doesn't transfer on glasses/mugs, but does fade over time. Hence, you will require a top up after a couple of hours of wear when it starts to look patchy. It's slightly difficult getting the lip colour completely removed, so you will require an oil based makeup remover for a perfect removal.
Other than feeling a bit dry, I actually like this NYX Lip Lingerie in Truffle Trim a lot due to the gorgeous colour, simple application and long term wear. The shade is definitely my favourite thing about this product and I'd love to find something that's exactly like this, but slightly more moisturising. Let me know if have any recommendations. 😉