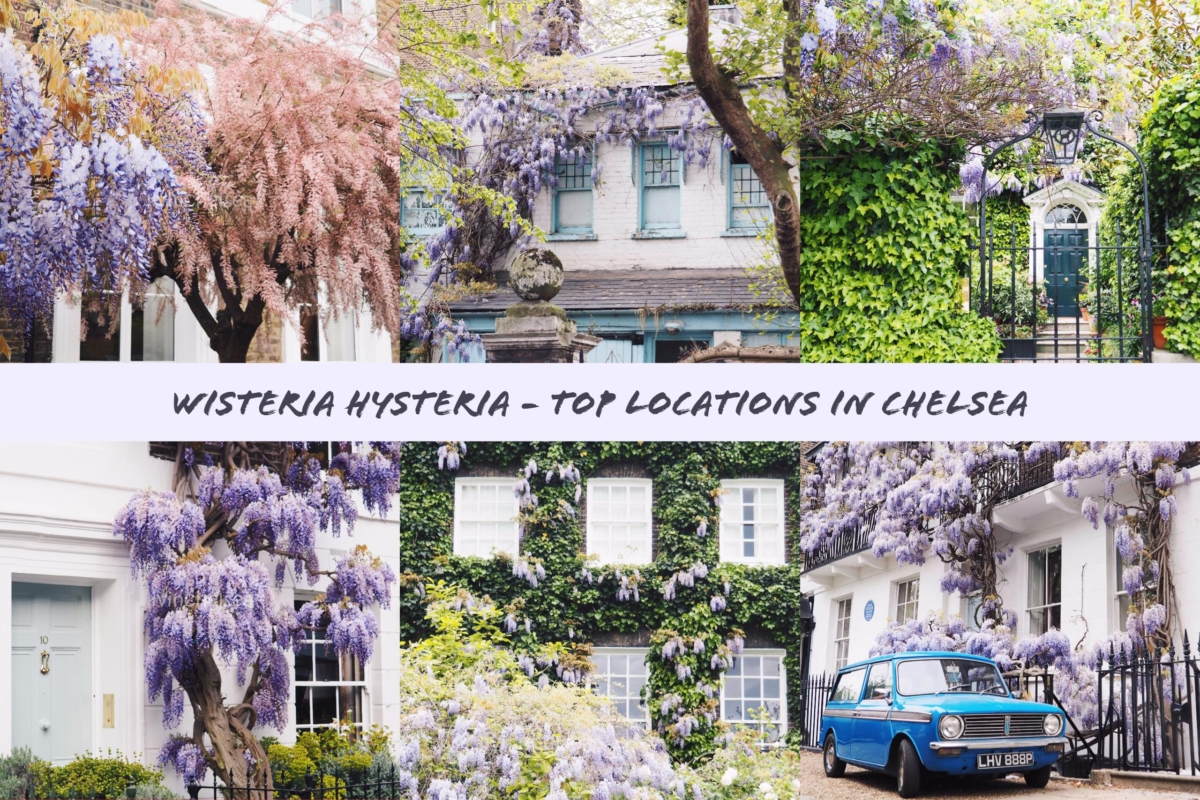 Wisteria Hysteria
The Chelsea Walking Tour
I recently caught the travel bug and one of the things I've been doing a lot more of in the last few weeks is spending more time on Instagram and goggling at other people's travel photos! Everyone wants to travel more, but only a few can. I definitely don't consider myself a seasoned traveller because I have a full time job, pay the extortionate London rent and still have student loans to think about. Hence, I thought to myself, why not explore the more affordable areas closer to home. One of the topics that really caught my interest is this opzioni binarie wordpress #WisteriaHysteria trend on Instagram where people take and share photos of wisteria next to houses and buildings. Most of the wisteria photos seem to be taken in or near Kensington & Chelsea. So I decided to go hunting for these flowers myself and create a map with the best locations for photographing wisteria in London - a watch Wisteria Hysteria Walking Tour! I've also included a couple of Instagram examples (although I couldn't find one for every location) to show you how other people have captured this purple wonder!
I hope you find this rencontres amicales rouen "Wisteria Hysteria Walking Tour" useful and that it helps you to demystify the magical locations you see on Instagram, so you can go and have a look at it yourself! For this post, I've decided to concentrate on the go site South Kensington, King's Road and Chelsea area in London as the route takes approximately 2 hours if you want to shoot and go or half an hour extra if you want to do some sight/house-seeing on the way. What I've created is a round trip and I've decided to start at South Kensington, but you can start wherever you like! So let's get started and look for wisteria in London.
The walk from finasteride generic cheap from asia Gertrude Street to buy seroquel Cheyne Walk is another 10 minutes, but once again it's mainly just brown flats and town houses. However, once you get to buy viagra seattle Cheyne Walk, you'll be surprised by the colourful street scene. There are at least 5 wisteria picture spots on and around this street.
Stop 5: Christchurch street
Once you've finished admiring the beautiful wisteria walls by Cheyne Walk, it's time to head towards St Leonard's Terrace via Christchurch Street. There's a couple of wisteria spots dotted around here, so I recommend you have an explore. But the house that stood out to me is the pretty, but antique looking Durham Cottage.
Stop 6: St Leonard's Terrace
Now the stop you've all been waiting for! St Lenoard's Terrace is the home for one of the most "Instagrammable" #wisteriahysteria photo. Not only is the blue car with the powder blue door and wisteria wall from here, but there are also several houses in this area that are covered in layers and layers of wisteria!
After experiencing St Leonard's Terrace, it's time to head back to South Kensington. I didn't spend too long exploring this area, so you tell me what to see here! However, I did see a few pretty looking Wisteria Hysteria scenes by Elystan Place and Astell Street. Also check out St Luke's Gardens whilst you're there!
I hope you enjoyed taking a walk with me and discovering one of the most wisteria inhibited areas in London. Hopefully that would've also answered you question: Where to Find Wisteria in London? If you found this post helpful then please let me know so I know whether I should do another wisteria in London post from other locations. Did I miss a sweet wisteria spot on this route? Tell me where and I'll have another wander!
Lastly, do you see the gaps between the Instagram photos? There's where your Instagram post go! If you've taken a photo from one of the locations mentioned above then comment below with the post URL to help me complete the collection - but square photos only please. 😊
If you like these photos then please check out my new @livinchelsea Instagram account which features a whole set of photos on The Royal Borough of Kensington & Chelsea!
@livinchelsea