This time last week, a little package popped through my post box… ok, let me correct that… a huge and rather heavy boxed was delivered to my door. The box literally contained my meals for the next three days. My box was the last one to get delivered on the day and it came around 6.30pm. With Juice To U, the latest a package can be delivered is 7pm and you don't get a time slot after placing an order. So note that your package can get delivered any time between 9am to 7pm on a Tuesday.
As for the packaging, I thought the bottles looked really fun and there are descriptions saying what the juices are made from and when to drink them. In addition, you also get two lemons and a cute guide to juicing and healthy eating. Anyways, if you want to know more about juicing then you should take a look at Juice To U's website. However, nowhere on the leaflet sated that you're not meant to eat or drink anything else whilst on the detox.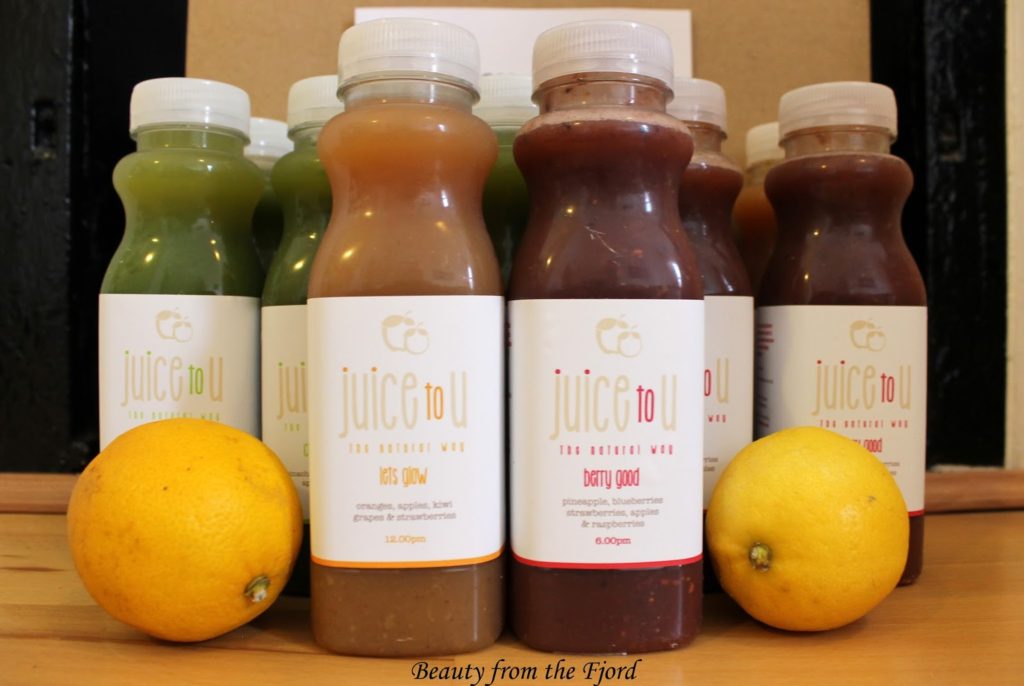 Now let's move on to my experience with the Juice To U 3-day detox program*. I was really excited about starting the Juice To U program because I thought it would help me shed a few extra pounds, brighten up my skin and get rid of my bloating. So here's how it went:
Day 1: I woke up hungry, but then I always do in the morning, so drinking a bottle of green juice wasn't too hard. However, as the day went on I felt hungrier and hungrier, until the point I felt a little dizzy and faint. It might have been caffeine withdrawal symptoms, but I think I was just generally lacking energy. Besides, the second juice was meant to be consumed at 12pm, but I took it at 2pm because I only had four bottles of juice to drink for the whole day and I didn't want to take my fourth juice at 6pm (as recommended) and not eat/drink juice for the next 15 hours. I definitely felt like I was on a hunger strike that day and I actually felt hungry most of the time, especially when everyone else was munching on delicious meat!
Day 2: The morning of day two was a difficult one for me because I felt COLD! Like I would never get warm again and drinking a cold bottle of juice right from the fridge didn't help! However, I tried my hardest to keep my body warm with lots of layers while sipping on a cup of berry infusion tea. On the bright side, I felt less hungry on day two, but I was craving food! I wanted something sweet because the juice I was drinking wasn't satisfying enough. To make my life worse, my boyfriend got an Indian takeaway for dinner! GREAT! I admit that I had a bite of chicken, but it didn't stop my craving for sweet things, so I had a pack of raspberries and an apple to stop my needs. Oh dear! 

Day 3: Even though I totally cheated on day two, I still lost weight the next day. I woke up on day 3 with a soar throat and I was terrified that the flue my boyfriend had for a few days has passed on to me! Surprisingly enough, I felt that I had more energy on day 3 than day 1 and I was definitely less hungry. However, I did feel a bit sorry for myself because I thought I was gonna get a cold, so I munched on a biscuit, some blueberries and two mandarins. (I never ended up getting that flue, thanks to the vitamins and anti-oxidants in my juice!)
So after being a complete "looser" in the weight loosing front, I somehow still managed to shed 2.2lb. No wonder, I was on a 800 or less calories per day diet! However, my skin did feel better afterwards and I felt less bloated during the detox, but the bloating came back again the moment I started eating. Even though I didn't loose as much weight as most people, I did get past the weight hump I've been stuck on for years. :)However, the juice itself didn't taste very nice. Rather than the clean, pressed juice or smoothie you get in the supermarket and make yourself using a juicer, it tasted like blended fruit bits that's been watered down loads. Even worse, I found small pieces of apple stems and lots of big fruit seeds in mine.
There are loads of different juice detoxes out there, but what I liked the most about Juice To U is that it contains lots of vegetables and it's not too sweet, mainly because it's very diluted. However, I didn't like the blended bits in them, but this is purely down to personal preference. So have you done any juicing before?