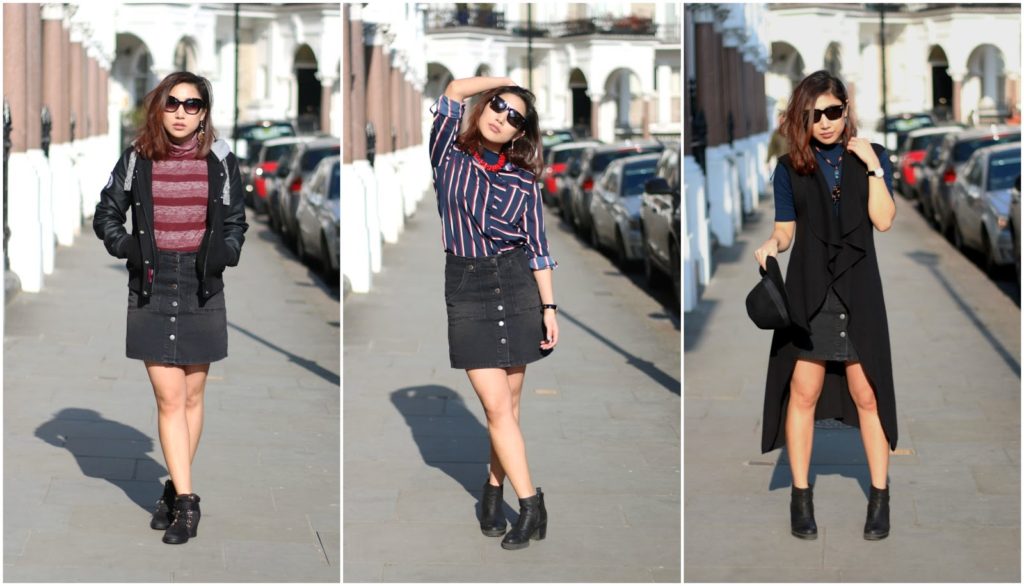 As it's getting warmer outside, I've been swapping out my winter outfits for more summery ones. One of the many styles I've been loving lately is casual denim, hence I decided to feature a couple outfits I've been wearing lately in this post!
New Look challenged me to create multiple looks with one denim item! I was super excited about this project as I love creating outfits and mixing styles. There are so many gorgeous items from New Look , ranging from a classic pair of jeans to stylish bomber jackets! Nevertheless, I picked a black denim skirt as it's the perfect item for this season! It's super comfy, fun and it even shows off some skin! 😉
Look 1: Casual Street Style
This is my favourite look from the three! I'd literally wear this everyday as I love the mixture of relaxed and cool this outfit portrays!
Look 2: High Street Office Wear
The second look is more dressed up and it shows how you can wear denim skirts with funky shirts! I've been wearing this outfit to work and everyone's been commenting on how cool it looks!
Look 3: Capsule High Fashion
I'm obsessed with the duster coat/coatigan and hats combo, so I had to try it out with this skirt! This outfit is something I'd wear to an event when it gets warmer!
I hope you liked this post and found some outfit inspirations! So which of these outfits is your favourite and how would you wear a denim skirt?
*Disclaimer: This is a collaboration post, but the views are my own.