Today's post is all about anti-ageing products and the tricks you can do with them. After receiving lots of anti-ageing product samples in various beauty boxes, as gifts and in magazines, I started asking myself "when is it the right time to worry about wrinkles and saggy skin?" The most common answer would be "when you notice the wrinkles." However, I believe that when you can see the wrinkles it's too late to reverse the effect. They say that there's no such a thing as a wrinkle eraser, and I personally think it's true. The reason that they are called anti-ageing products is not to cure ageing but to prevent and delay further ageing.
So do I use it? Yes and no. First of all, I do not have visible wrinkles and I do not want to start my anti-ageing regime too early as I still have blemishes to worry about. However, I do notice that when I smile too much (quite often), shallow fine lines become visible between my nose and lips (whatever that area is called). Another place where wrinkles are always visible regardless of age is the neck area. This is a very delicate area that most people forget to include in their daily skincare routine. I don't know if you notice this, but check out celebrity pictures, no matter how young their face looks with rigorous skincare routines and makeup, their neck always tells the truth.
So rather than using my sample collection all over my face, I target specific areas (once a day): neck and nose/lips areas, especially the neck area as I noticed just how important this is in the past few weeks. So what do I recommend from my sample collection?
Elemis
Pro-Collagen Cleansing Balm:
It's got a sharp, fresh floral smell; nice and summery. Absolutely love it! The texture is soft and balmy (pro use of words there), it's basically like crystallised honey. This explains it: "Elemis Pro-Collagen Cleansing Balm combines precious starflower, elderberry and optimega™ oils with rose and mimosa waxes, and anti-ageing padina pavonica to deeply cleanse, nourish and smooth for a glowing complexion."
Pro-Randiance Illuminating Balm:Not sure about the smell of this one, kinda smells like a hand soap, but I do still use it. It absorbs straight away and creates a matte surface finish. "Formulated with a powerful vitamin complex that helps protect against moisture loss, whilst exquisite purple orchid, noni and acai help defend against the early signs of skin ageing."


Pro-Collagen Marine Cream:
I haven't actually tried this but it's got lots of good reviews, but I will definitely give it a go when I get heavy wrinkles. In my opinion, 20s is to early for this product."Elemis Pro-Collagen Marine Cream is a powerful anti-ageing moisturising cream that provides a progressive lifting effect through increased collagen support. The dynamic combination of ingredients helps to deliver visible results within 15 days."



The Rest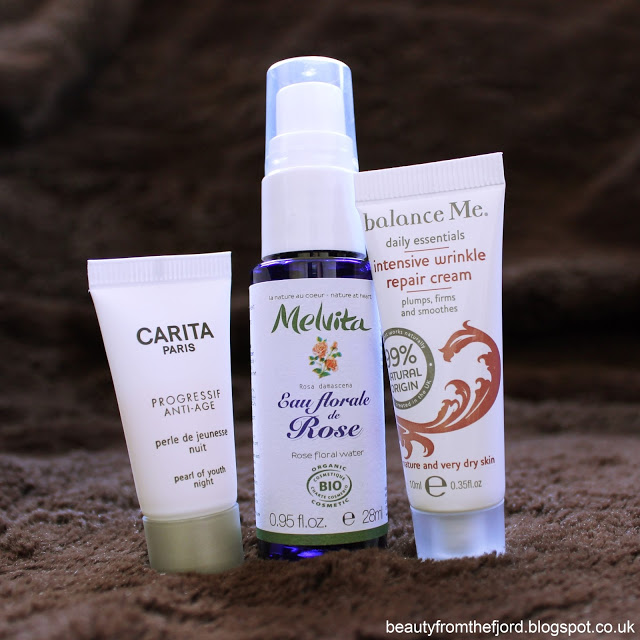 Melvita – Eau Florale de Rose
You don't need wrinkles to use this. This is a lovely spray that can be used anytime and anywhere to freshen up your skin. Absorbs easily and smells like fresh roses. "Rich in Rose Essential Water, this delicately scented formula combines the anti-ageing and rejuvenating properties of Rose Floral Water with the firming properties of Marsh Clover. Marsh Clover or Water Clover is proven to firm the skin and improve the oval contour of the face."
Balance Me – Intensive Wrinkle Repair Cream
This product smells really good too, very much like the Elemis pro-collagen cleansing balm, but sweeter. Texture is too heavy for the summer but would be good for winter. "A richly hydrating anti-ageing moisturiser with collagen-boosting blackberry leaf, balancing neroli and super moisturising hyaluronic acid designed to plump, firm and smooth dry and mature skins to encourage healthy, youthful-looking complexions."
Carita – Pearl of Youth Night
A blend of glossy and creamy texture. Smells lovely; a mild perfume like Elie Saab. A little too expensive, but I wouldn't mind using this product every night if it was given to me."A multi-revitalising anti-ageing skincare product that helps to repair, firm and stimulate the skin's essential functions at night. A combination of restructuring and revitalising agents breathes energy and vitality back into the epidermis, for youthful-looking skin in the morning."


What do you do with your anti-ageing samples? Please share the tips and tricks. 🙂
ga('create', 'UA-42357811-1', 'beautyfromthefjord.blogspot.co.uk');