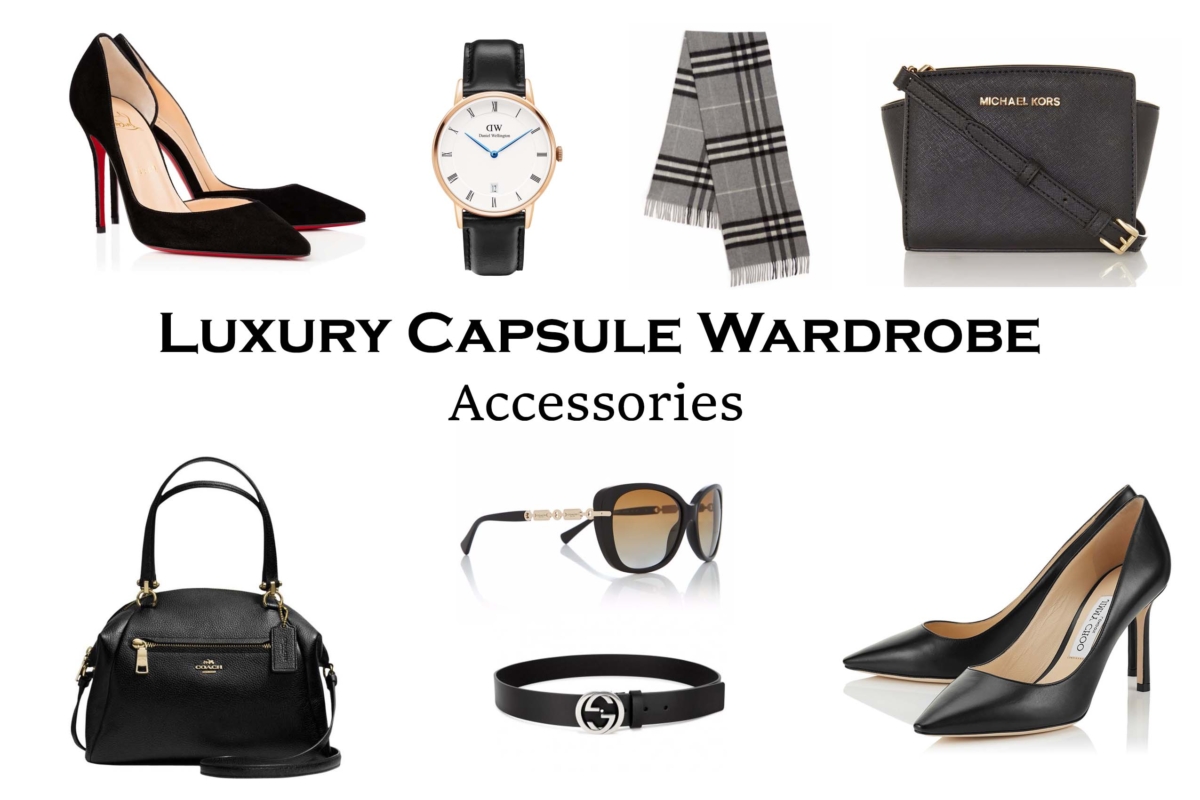 I've been obsessing over luxury items lately and I've stopped shopping at high street stores so I can start saving up for a luxury capsule wardrobe! When it comes to building a luxury capsule wardrobe, it's important to start with the accessories as every designer brand has a recognisable signature feature that's often more noticeable on accessories than on clothes. For instance, the Michael Kors tag, the Burberry tartan pattern and the Louboutin red soles are all trademarked and unique to the brand. I've always believed that it's more important to invest in key accessory items because I change my clothes on daily basis, but I tend to wear the same bag, shoes and sunglasses for many days in a row!
As my current luxury section is rather limited, I have decided to stick to a simple black theme to start with for my luxury capsule wardrobe accessories. Mainly because they'll go well with most items and never go out of style! Despite dreaming about the £1000 Céline, Prada and Givenchy handbags, I have limited myself to items that I can actually afford if I saved up! One of my top destination for affordable designer accessories, especially handbags is House of Fraser because they have a good selection of affordable mid-ranged designer brands like Michael Kors, Ralph Lauren and Lulu Guinness.
Luxury Capsule Wardrobe
Sunglasses
I am a huge fan of big sunglasses and I can't live without them! I even wear them during my 10 minute walk to my local supermarket as long as the sun is out! Sunglasses have so many uses, not only do they protect your eyes from the sun, but you can also hide under them on a makeup free day. 😉 I already have a pair of sunglasses from Balmain which I love to bits, but it's always good to have a few gorgeous pairs of sunglasses lying around for different looks! 
Luxury Capsule Wardrobe
Handbags
One of the first items I'll be working towards is a signature handbag. I think it's about time that I got myself another leather bag that I love as much as my Michael Kors Sutton Bag, which has definitely been "over-featured" on my blog! The Coach Prairie Satchel is my favourite because it's a good size and it looks simple yet stylish. Nevertheless, for everyday use Michael Kors Selma from House of Fraser is a great fit because it's small, sleek and definitely within the affordable price range! 
Luxury Capsule Wardrobe
Heels
A classic pair of high heeled pumps are definitely missing in my wardrobe because I find it extremely difficult to find a pair that tick every box! I feel so much confident in heels because they make me stand up straighter and look taller. Hence, it's important to find the perfect pumps that make you look and feel good even if it means paying a bit extra! When it comes to shoes, I'm obsessed with these brands: Salvatore Ferragamo, Jimmy Choo and Louboutin. Hopefully  I'll be able to own a pair from one of these designer brands by the end of the year!
Luxury Capsule Wardrobe
Other Items
Other than the key items you can never have too many of, I've also got my eyes on a stunning Daniel Wellington watch, a classic Burberry scarf and signature Gucci belt. These are the perfect items to finish the high-end look! 🙂 I love collection scarves and I have a drawer full of them in all sorts of colours and patterns which I wear for different occasions, but you can never have too many pretty scarves.
I'm looking forward to saving up and eventually add some of these items to my new luxury capsule wardrobe! So do you have any luxury timeless items that you're saving towards?
Disclaimer: this is a sponsored post, but the views are my own.