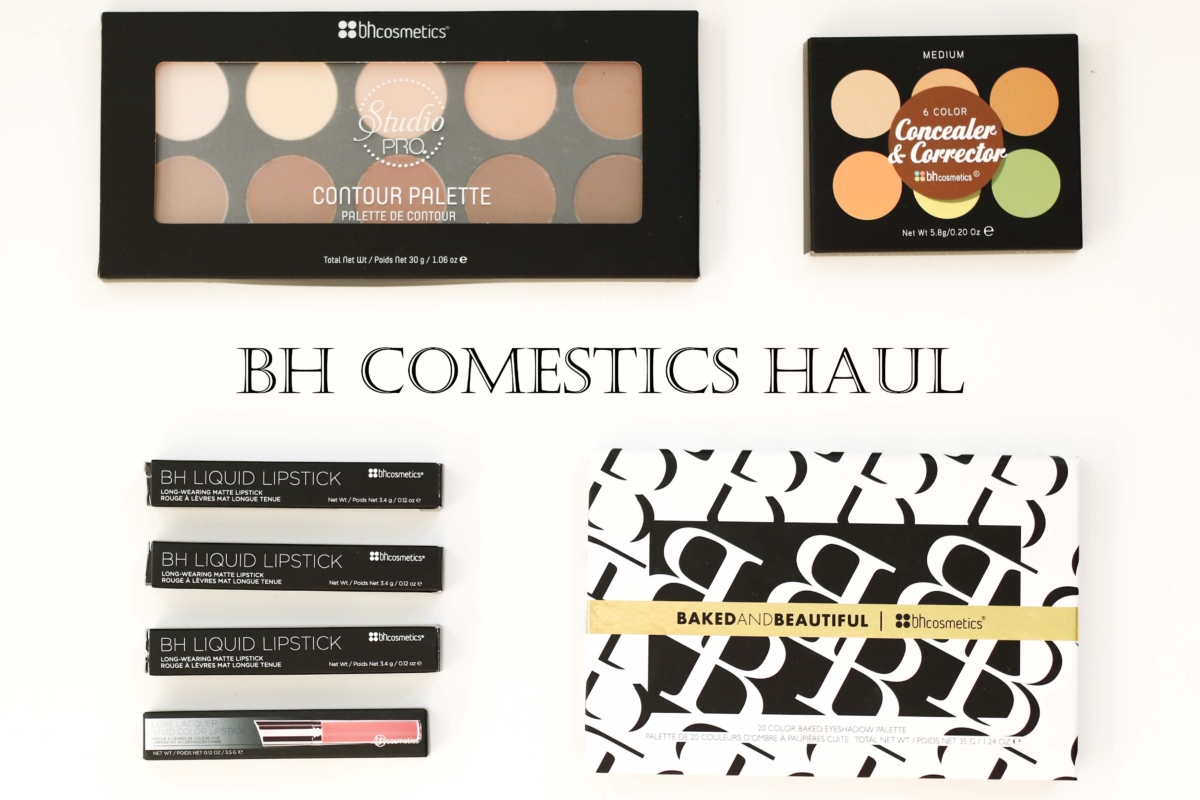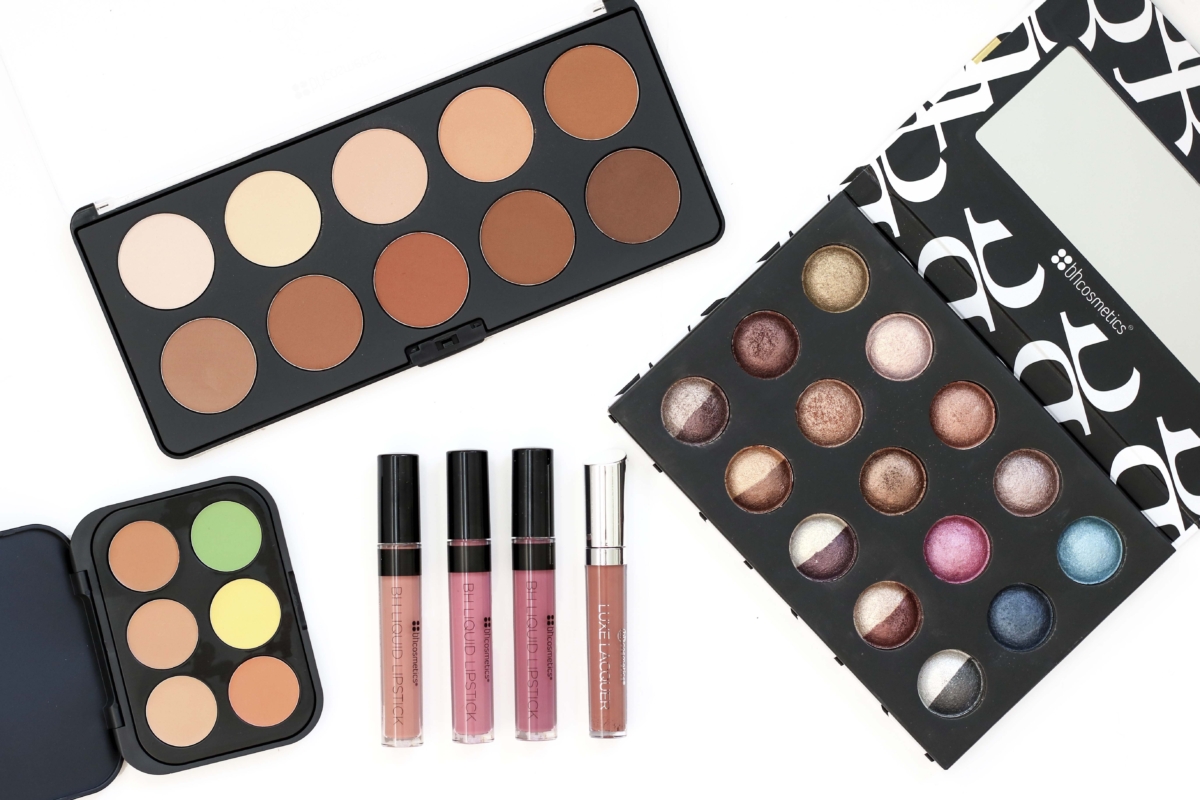 A couple of months ago, I bought a few things from BH Cosmetics, an US based makeup company that offers international shipping. The brand is similar to Colourpop and it's extremely popular in the US, but lesser known in the UK. I first came across the brand on Youtube as they do a lot of collaboration collections with established Youtubers like Carli Bybel, Missy Lynn, Shaaanxo and most recently, Bubz Beauty.
BH Cosmetics has some of the most beautiful palettes and you can get them at a decent price too! Most of their palettes range between $10 to $15, but they have various weekly deals which means that you can often get the palettes for less than that! Other than gorgeous eyeshadow palettes, BH Cosmetics also offers a huge selection of affordable makeup brushes and a stunning range of lip products!
After eyeing up some of their products, I finally decided to give into the temptations and placed an order during one of their super attractive sales. I can't actually remember what the sale was during the time, but I think it was "save up to 50% on essentials" or something along that line. One of the first things I fell for was the Baked and Beautiful Eyeshadow palette! I knew that I had to have this palette because the shades look stunning and super shimmery! I've also wanted to try their Liquid Lipsticks because I've heard a lot of positive things about them and I wanted to expand my liquid lipstick collection.
I'll do a really quick review of the products and summarise how much this haul costs in total, including the discount, shipping price and custom fees at the very end.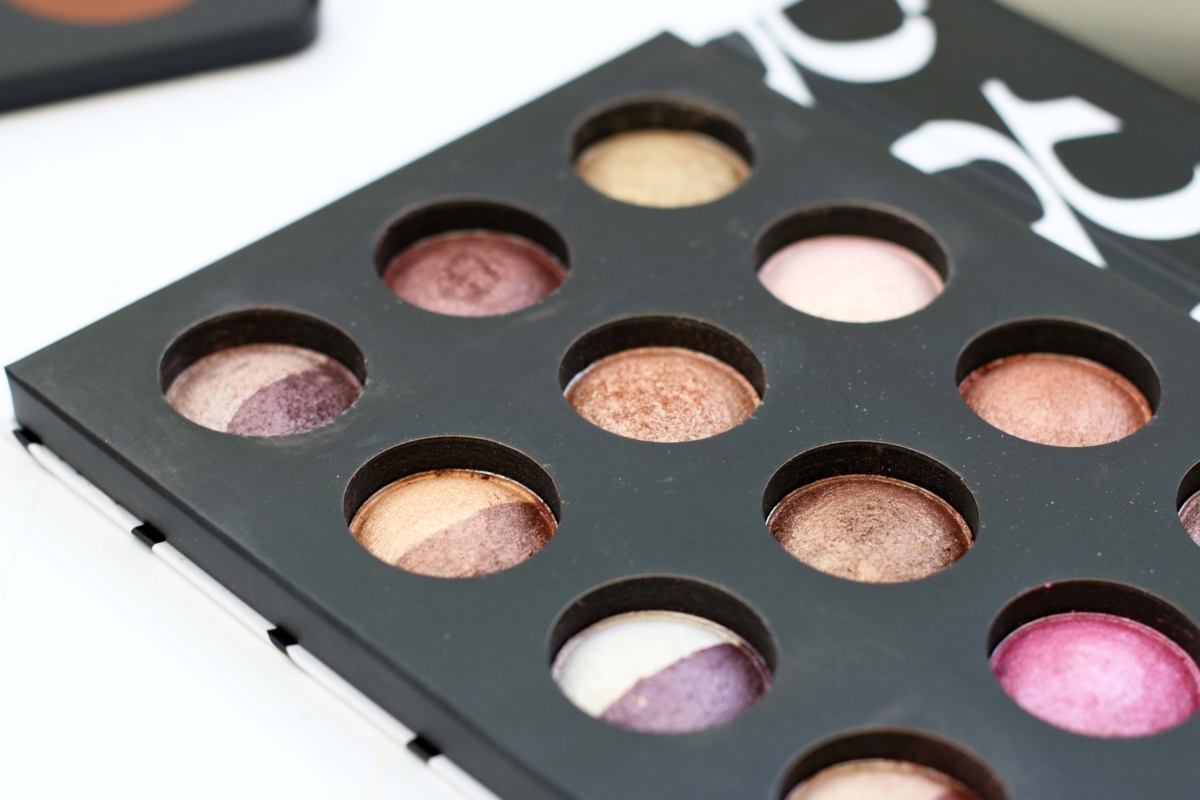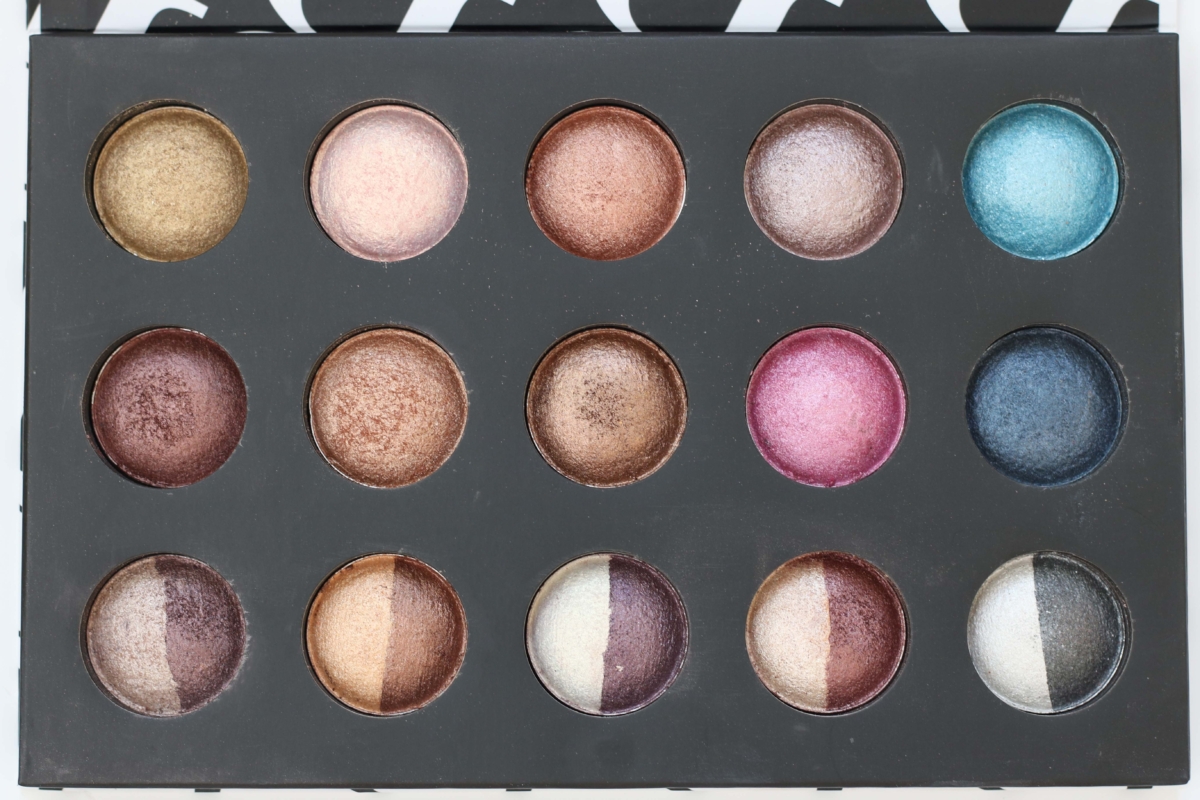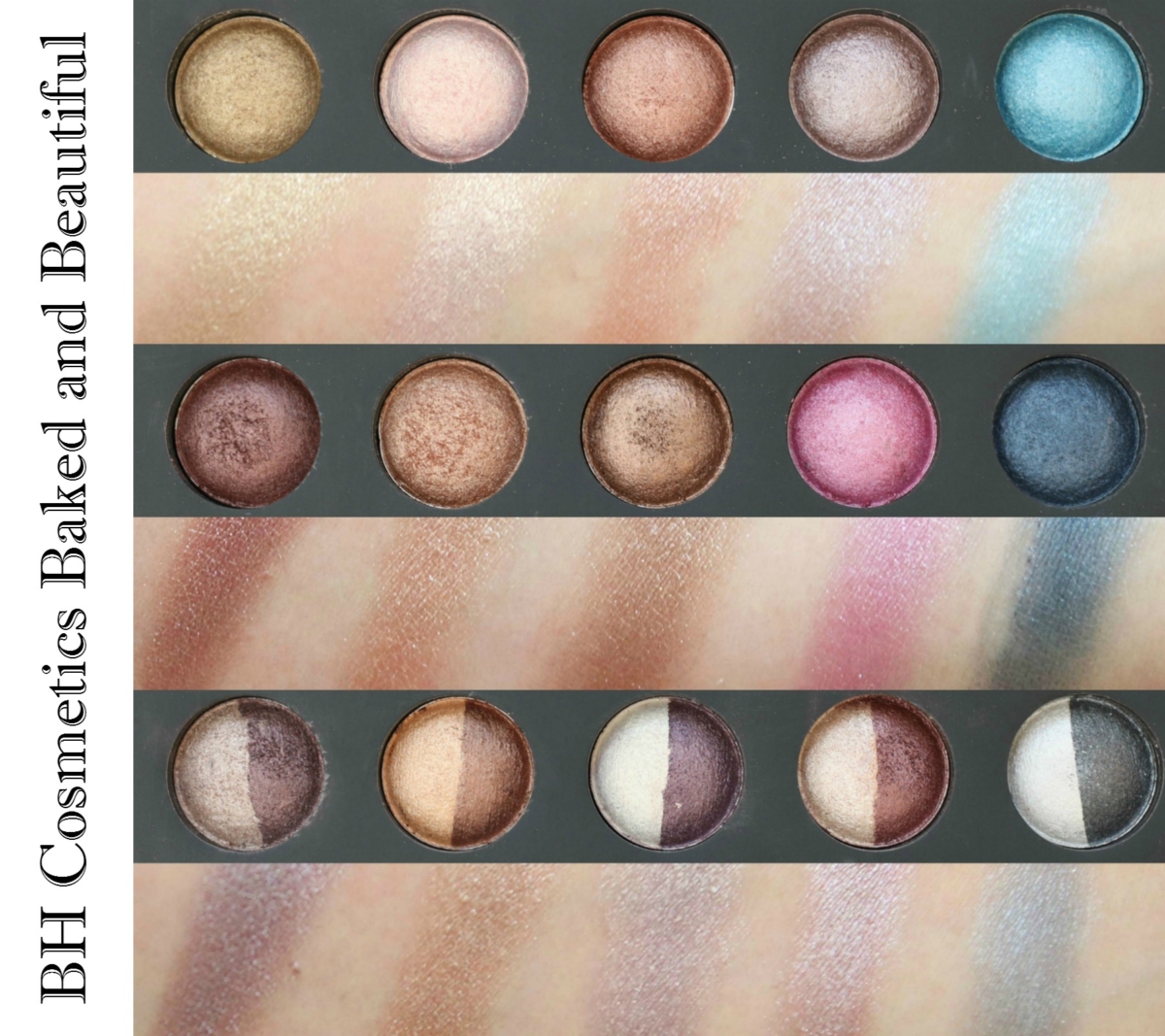 This BH Cosmetics Baked and Beautiful palette is to die for. Most of the shades are very earthy and lightly toned which means that it's perfect for everyday wear. However, you also get a couple of brightly coloured shades (blue and pink) which are great for working with a more adventurous look! Nevertheless, the 5 shades at the bottom can be blended out or worn on their own which means that you can pretty much get 20 unique shades in one palette! I swatched how the colours look blended out because there are already a few swatches out there on how the colours look separately, so I thought I'd show something slightly different.
The pigmentation isn't as strong as I'd like, but this is mainly down to the fact that the finish is super shimmery! The texture feels really smooth and silky and applies nicely. However, I personally think that the shades are too shimmery for me to work with on their own so I usually combine this palette with darker and less shimmery/matte shades from a different palette in order to get that depth and definition. Nevertheless, this palette works really well for highlighting and if you want to bring out that "pop of light" on you eyelids.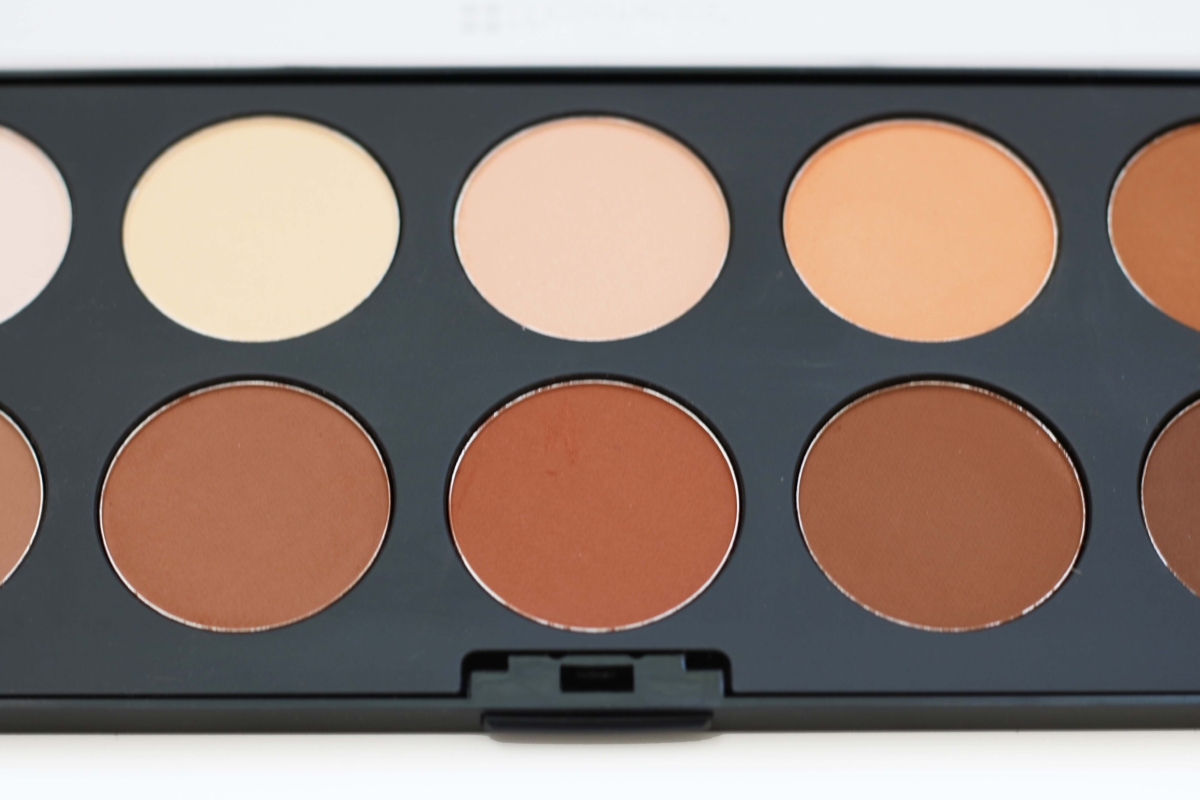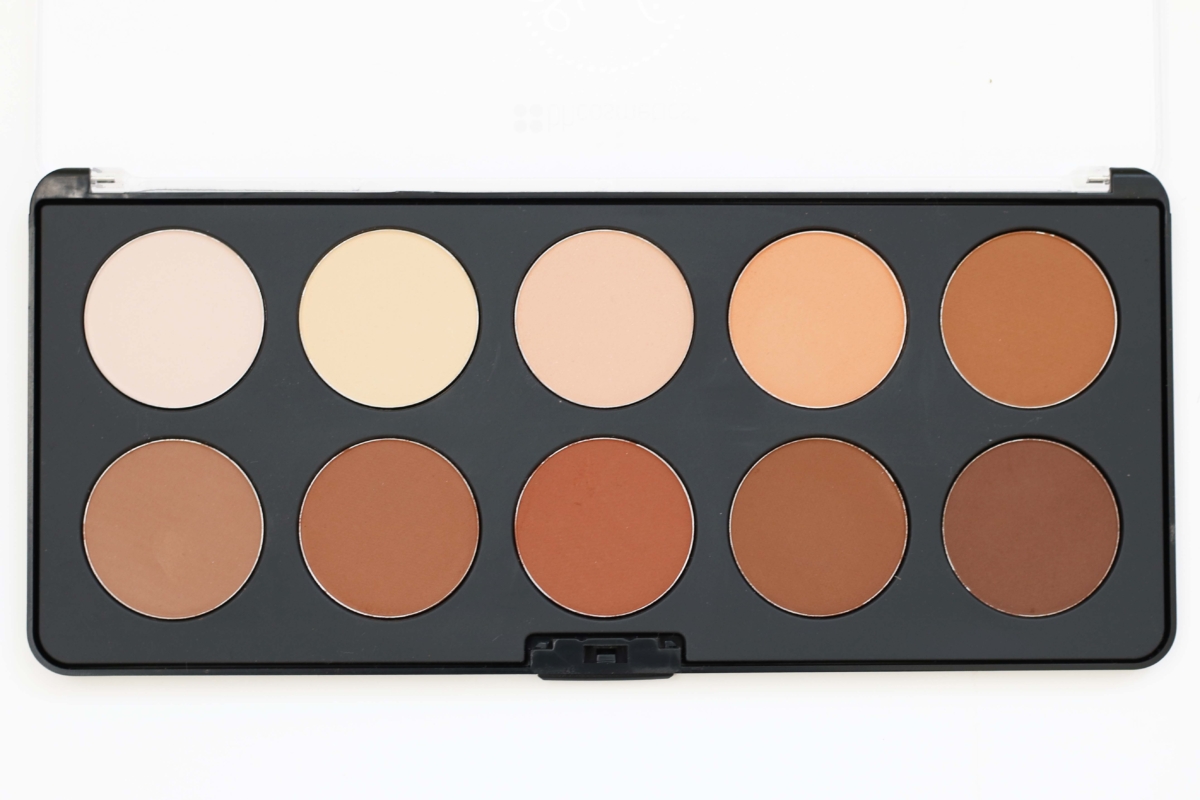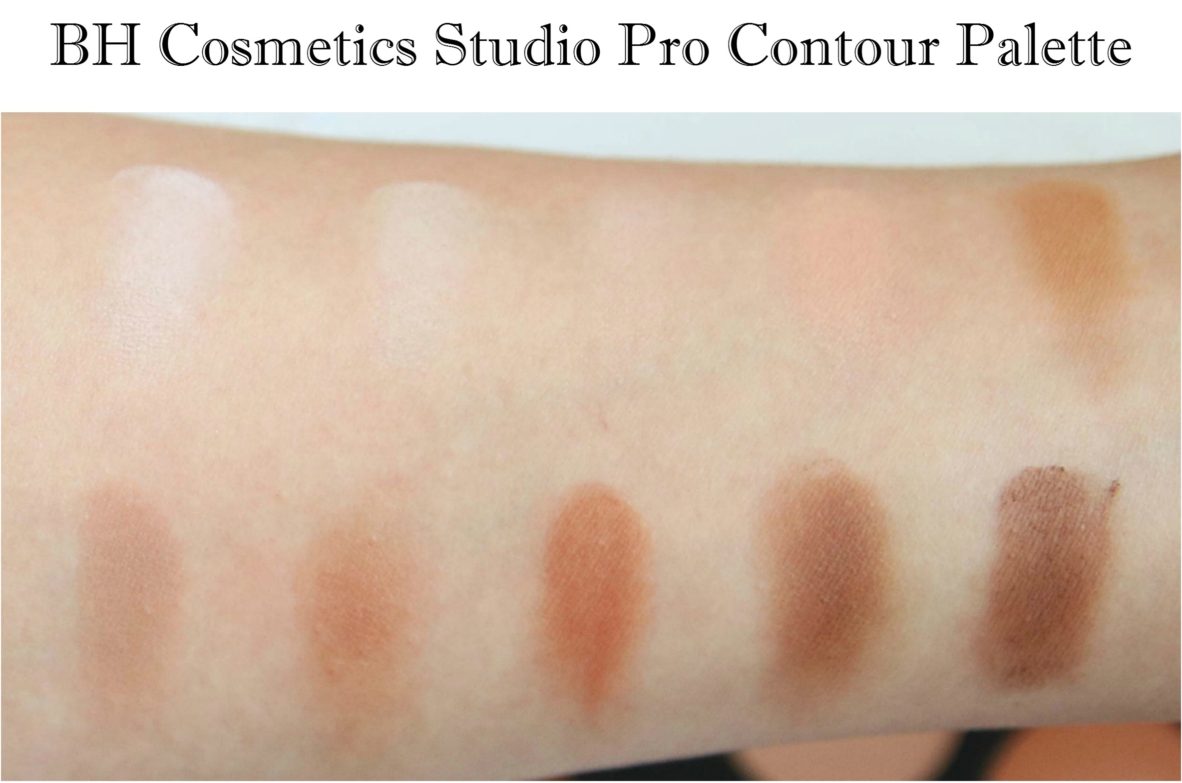 When I bought this BH Cosmetics Pro Contour Palette, I was expecting a more creamy texture as opposed to powdery. There are 10 different matte shades in this palette which means that something is bound to be the perfect contouring shade for you. The idea of this palette is that you can use it from day to night by using the lighter shades during the day and darker shades during the evening. However, I don't think I ever touched the two darkest shades for sculpting because they just don't look good on me. Nevertheless, they would make the perfect eyeshadow shades!
I found this Pro Contour Palette a little bit more difficult to blend than some other ones I've tried, but it's great for those situations where you have to create sharper and more defined contouring lines, for instance in photos! This is not my go to palette for my daily makeup routine, but I often use this palette for photos and special occasions.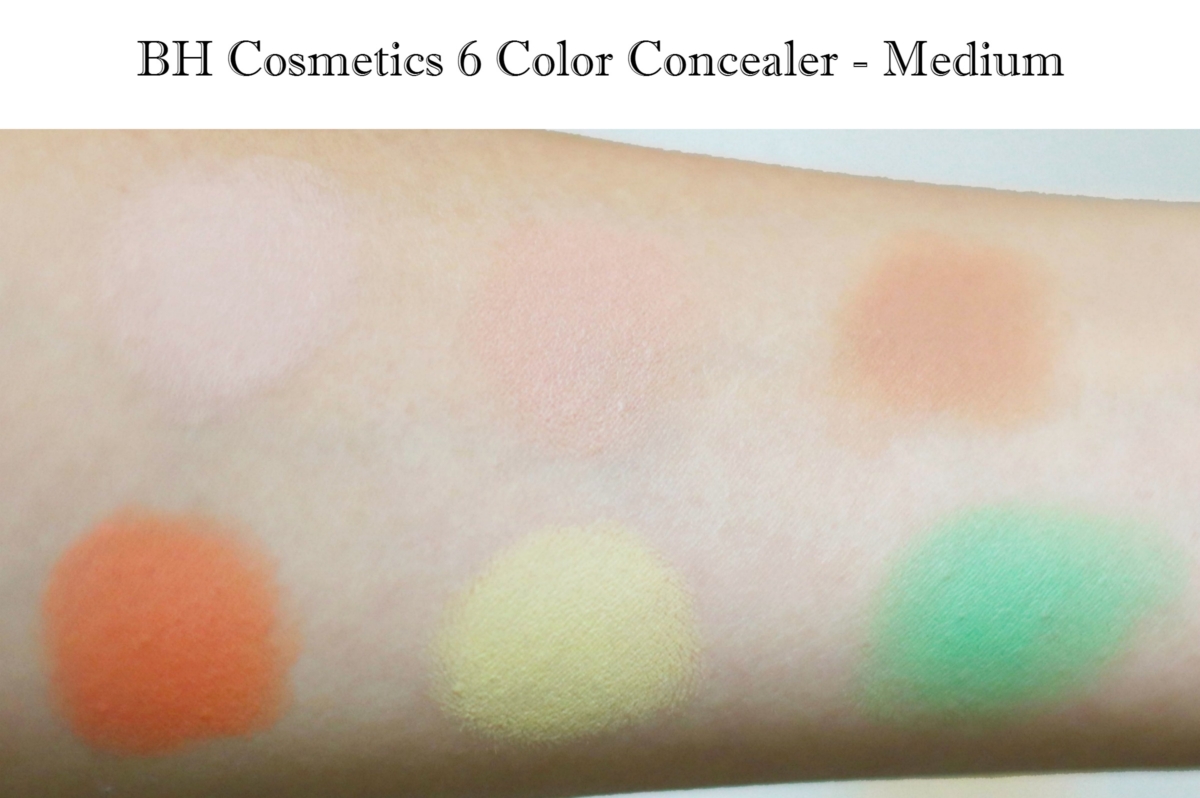 The BH Cosmetics Concealer Palette is an interesting one as it's got a few funky shades that you'd probably never thought about using on your face. The bright colours are meant to have better coverage for dark circles, blemishes and redness as they cancel out other tones. Orange is perfect for under-eye dark circles, yellow evens out the skin tone and green covers redness more effectively. I don't use the corrector shades that often, but they are great to have for those extreme dark circle days! Nevertheless, you also get some normal concealer colours in this palette which are great for everyday wear.
The texture is creamy, easy to mix and simple to blend. The coverage isn't as powerful as I'd wanted, but it's good enough and it's only $8! Before you buy this palette, I want to point out that the colours also don't match up with the shades on the site – they look a lot darker on the site. So if you're looking to get this palette, but can't decide between light, medium or dark, I recommend that you look at some swatches before placing an order.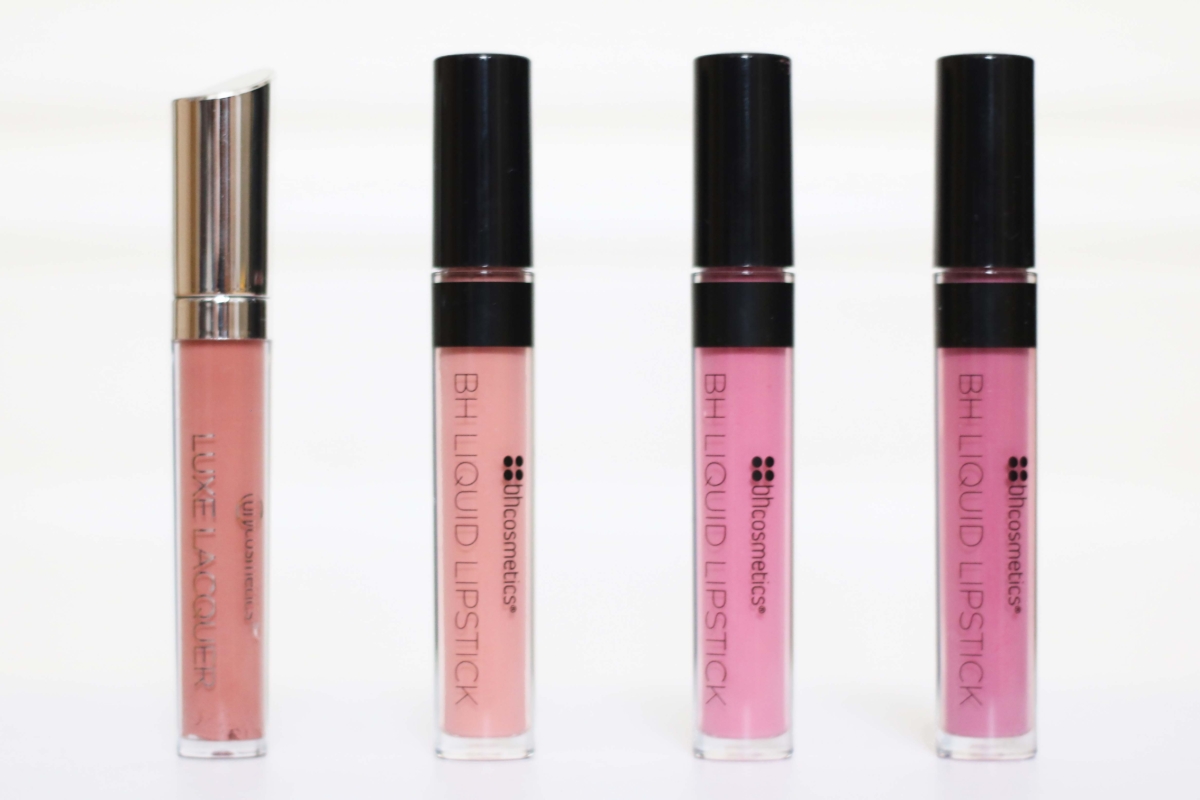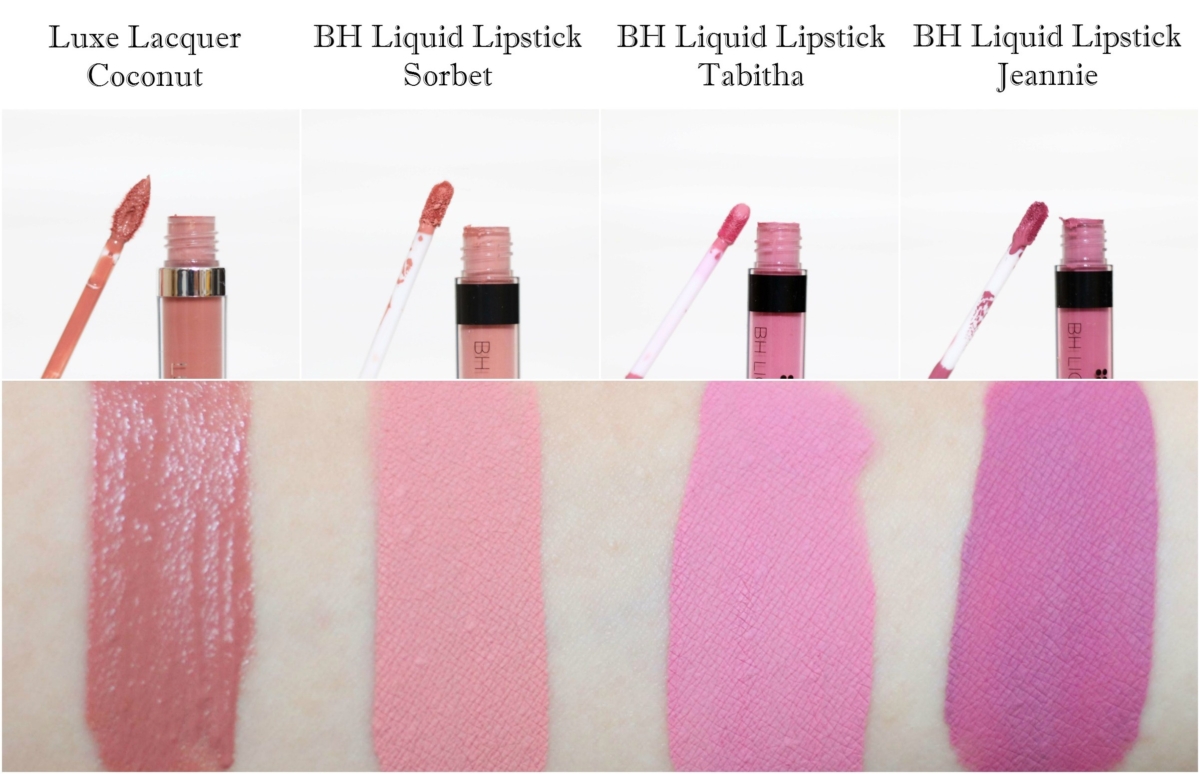 I have two different types of BH Cosmetics lipsticks here –  one from the Luxe Lacquer range (left) and three from the BH Liquid Lipstick range (right). The Luxe Lacquer lipstick is "a pigment-packed gloss-lipstick hybrid that glides on ultra-creamy with a dazzling high-shine finish." The formula of this lipstick is very interesting as it feels like a lipgloss, but looks like a creamy lipstick when applied. The texture looks quite glossy, but it's not sticky at all and it's super pigmented. The shade Coconut is a gorgeous nude with a slight orange tone. I just love how it looks and feels on! The only thing is that they're constantly out of stock and there aren't enough neutral shades!
BH Liquid Lipstick is a really popular product and there are 16 different shades of these gorgeous matte lipsticks! The shades range from bright pink to vintage purple. I went for the lighter shades as I've seen a few swatches and they were my favourites! The three shades are Sorbet, Tabitha and Jeannie. I was expecting Sorbet to be a nice bright orange shade, but it turns out to be very pastel and just blends into my skin, making it look like I have no lips! Similarly, Tabitha is a light pastel shade too and I think it would look better on lighter skin tones. However, Jeannie is my favourite from the three shades and I think it looks gorgeous on! It's a purplish undertone, but it looks really natural on!
---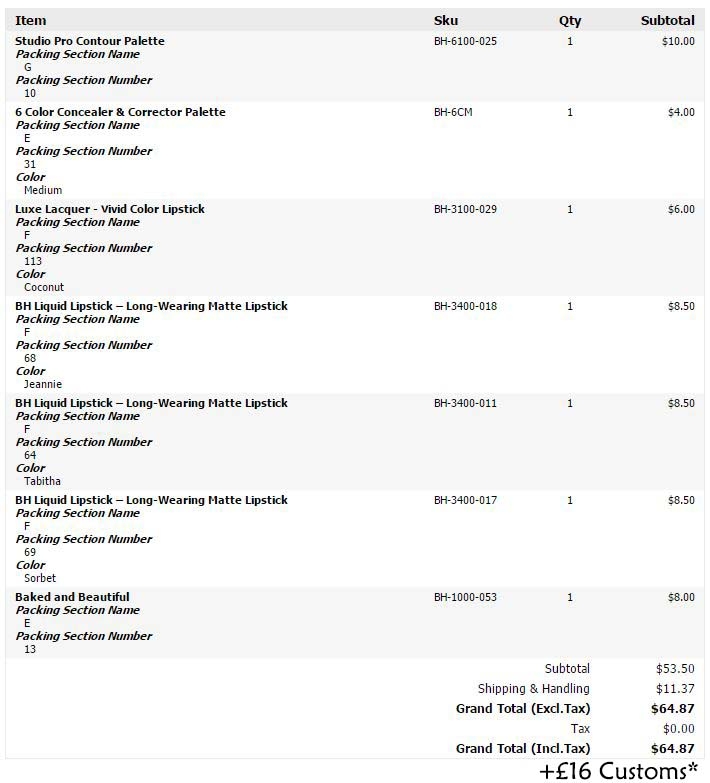 So here's how my receipt looked like at the end of the haul. The palettes were greatly reduced which is why I bought this in the first place. The shipping fee starts from $7 and it goes up depending on how much you order! I also had to pay around 25% in tax (*I can't remember the actual numbers but it was around £16-£17) which meant that the total cost came up to around £70. The products may seem cheap to start with, but with all the different factors put in place the price of each product becomes rather expensive. But £10 per product on average isn't that bad either.
The package took around 2 weeks to arrive and all the products were nicely packaged and came in excellent condition. The customs and international shipping fee does put me off, but it won't stop me from treating myself to a gorgeous palette or two every now and then.