If you've read some of my previous posts then you might already know that I hardly own any make-up, especially things to cover up my blemishes. Heavy foundations and concealers have long been eliminated from my make-up collection, but I do keep one or two light coverage products at hand just in case. In my previous post for The Starting Off Project, I posted a before and now picture of my skin. In the "before days"  I used to own a lot of skin coverage products so I have tried a lot of brands that have good concealers including L'Oreal, Maybelline, Benefit, Estée Lauder, Bare Minerals etc. etc. Now the only one I own is this Garnier Caffeine Roll-On, which I've had for at least half a year (still plenty left in there).
Garnier Caffeine Roll-On Overview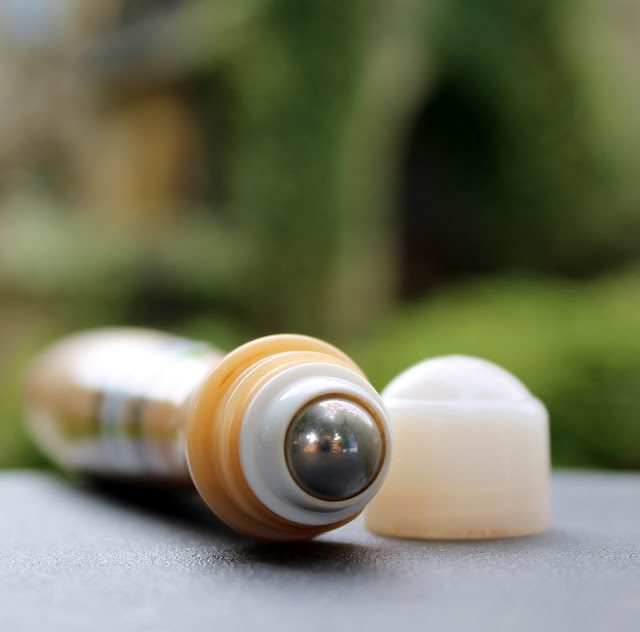 Garnier Caffeine Roll-On Results 

Product Description:
"Garnier Caffeine Anti-dark Circles 2-in-1 Roll-on has a double-action formula: Moisturising eye care and a cooling roller ball refreshes and hydrates tired looking eyes. Mineral pigments cover dark circles in a flash. Flawless, natural-looking coverage, long-lasting wear. Available in 2 shades to adapt perfectly to your skin tone: fair skin tone, medium to medium dark skin tone. 
How to use: Apply directly onto the eye contour, where dark circles appear. Formula is dispensed automatically via the cooling, massaging roller ball. Blend with fingertips, as if you were applying your regular concealer, for flawless coverage all day long."
My View:
What I like most about this eye roll is the metal applicator. Have you heard of the anti-puffiness trick, where you cup your eye with a spoon? Well, I guess the metal roller works in the same way. I love rolling it on my eye contour, "the dark circle area", because it helps to wake me up. As for the effect? Well, it does help to cover dark circles (but just a little) and I haven't got any whilst using it. However, I hardly have any dark circles so it's just that "extra product" used more for a psychological effect. You can see for yourself in the result picture, that it doesn't completely cover dark circles, but at least it blurs them and the surrounding blemishes.
The roller is the most innovative part of this product and I find it difficult separating myself from it. This product is rather moisturising and has lasting coverage. I like multitasking products. However, I don't know if it makes a difference in the long term, but I use it due to habit and because I love the cooling roller. Also, threw away the packaging box ages ago so I don't have and can't find an ingredient list for this Garnier Caffeine Roll-On. Any ideas?
This is a rather short product focused post for #theSOproject, but I hope you still enjoyed it.
Background: the product is resting on a outdoor light with a local Church in the background.