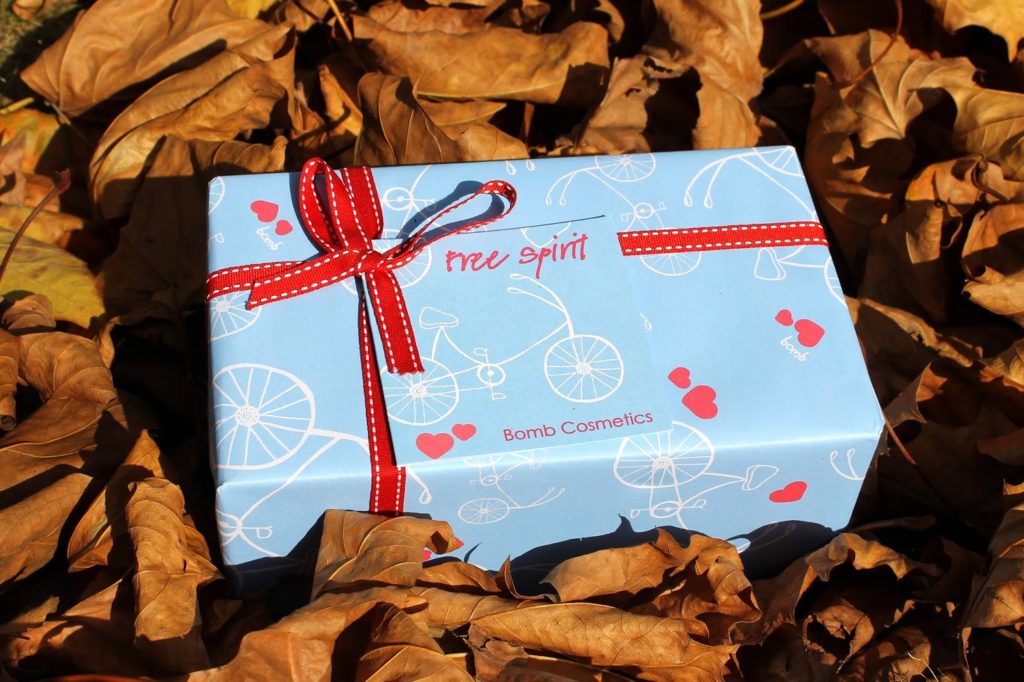 Unfortunately or shall I say fortunately, I don't have that many blogger projects this month, so I have more time to showcase some products I got over the past few months! Earlier this week, I showed you the
Laura Mercier Caviar Sticks
I bought last summer and today's post is all about
Bomb Cosmetics Free Spirit
!
I took these pictures a while ago, which explains the yellow leaves on the ground. You're be lucky to see any leaves these days! But on the bright side, it's almost spring!
You'll be pleased to hear that even though it's been 3 months since I got this gift box, this is still available online at
Bomb Cosmetics
. My boyfriend got me this as an anniversary gift, but I got to pick out which gift set I wanted. I picked
Free Spirit
because I think the packaging looks absolutely beautiful! Blue is my favourite colour and everything in this gift set looks cute and sounds refreshing, so why not?
This package is approximately £1.50 more than buying the products separately, but it's really worth the extra if you want to give this to someone or simply treat yourself to something fun. Bomb Cosmetics have over 20 gifts set for you to pick from online, but I think Free Spirit is the best. 😉
To be completely honest with you, I used all of these at different times so I've forgotten their exacts scents, but I can certainly say that I enjoyed every single item in this box and I'm still enjoying the Love Soaked Dreams Soap as it lasts forever! I do recall that they all had a similar scent and if I can summarise it in two words it would be "Seaside Romance!"
What you'll find in this box (in a circle from left to right) are: Azure Skies Blaster, First Love, Miss Tangleberry Buttercup, Love Soaked Dreams Soap and Crazy After Dark Blaster. My favourite is the Crazy After Dark Blaster because it looks like a "pulsating heart" as it fizzes away in the bath tub.
Overall I'm really pleased with these and I can certainly see myself getting more of Bomb Cosmetics gift packs in the future. I might just treat myself to one for Valentine's day. 😉