If you are a beauty blogger or a skin care fanatic, then you might have already heard of
NSPA
and their extraordinary product range because it's a new sensation in the skin care world! I reviewed
NSPA Melting Cleansing Gel
back in August and gave a little introduction about the brand. I'll just copy the intro text over as some of you might not have read that post.
NSPA products are inspired by professional spas and the experts behind them. NSPA's ultimate aim is to give everyone an affordable home spa treatment and relaxation through their Beauty, Hair and Body Rituals range. Surprisingly, you don't have to go to a fancy spa to get yourself a NSPA treat, a trip to ASDA will do.
NSPA Illuminating Beauty Serum – Overview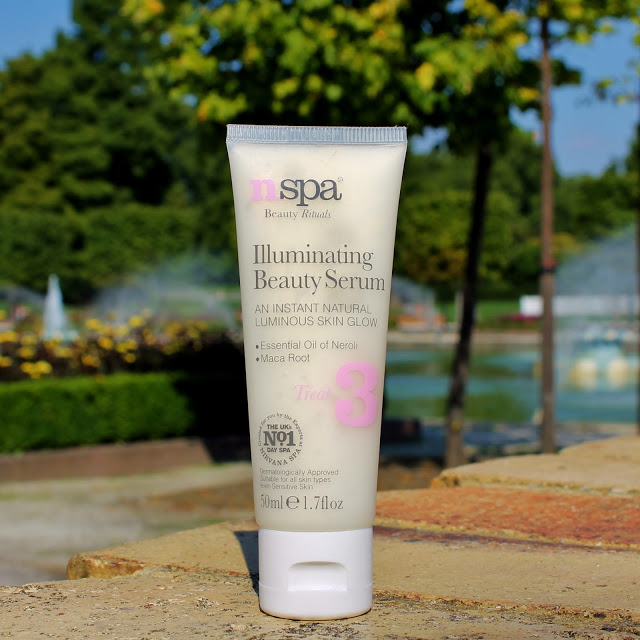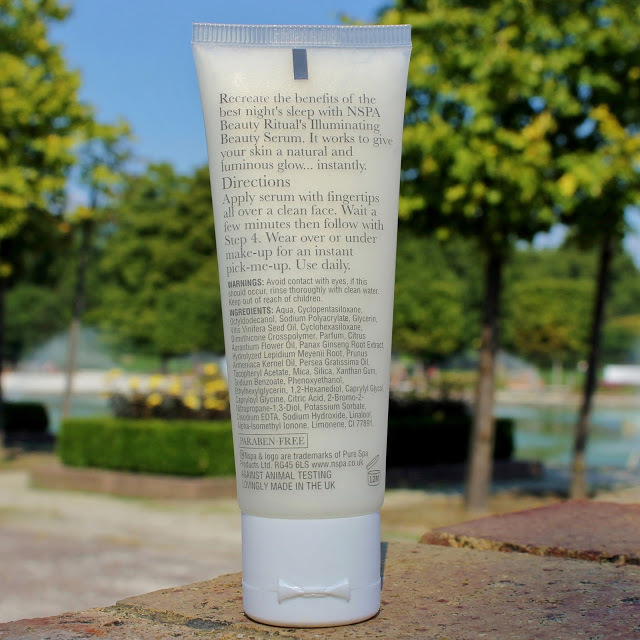 NSPA Illuminating Beauty Serum – Texture
Product Description:
"This beauty serum has been described as 'sleep in a bottle'
as it recreates the benefits of a night of deep sleep. Packed with a powerful
mix of moisturising ginseng and natural vitamin E, radiance boosting maca root
and grapeseed oil, it works to give your skin an instant, natural and luminous
glow."
My View:
(Smell): The smell is very similar to that of the
NSPA Melting Cleansing Gel.
No wonder really, because the ingredient list is rather similar. Like most products in the
NSPA
skin care range, this serum contains a lot of essential oils including grapeseed, neroli, apricot and avocado. In addition, herbal extracts like ginseng and maca root as described above are also the key ingredients in this product. I described the
Cleansing Gel
as
"the smell of this product falls between Dry Woods and
Aromatic on the
fragrance
chart
. Surprisingly, it doesn't smell anything like a fruit or a
vegetable, but it's got a very calming and soothing smell that makes you feel
relaxed."
I would say that this serum fits into that description, but with a sweeter top note.
(Texture): you would expect this product to be very oily from the ingredient list, but I was taken by surprise when I first tried it. The texture is very smooth and glossy! It absorbs within seconds without any oily residue. (Result): In fact, my face felt as smooth as a baby's bottom, hehe. As shown in the image above, this serum contains lots and lots of micro-glitter-beads which is why it's called an illuminating serum. The glitter concentration is very high, but it's not very obvious once applied. However, other than the immediate brightening effect I didn't feel that this serum gave me any long term effects such as reducing scars or deep skin conditioning.
Most serums are in the £30-£50 range these days, even around the hundreds. However, this is a great serum way below that range. I couldn't recommend this enough if you have beautiful young skin that only needs illuminating! But for someone like me, I think I need a little bit more treatment in my daily skin care routine. 🙂
Background: it's that fountain area I've been featuring over and over and over again in Battersea Park, but from a different angle of course. I thought the green and watery background reminded me a bit of a spa. 😉
;