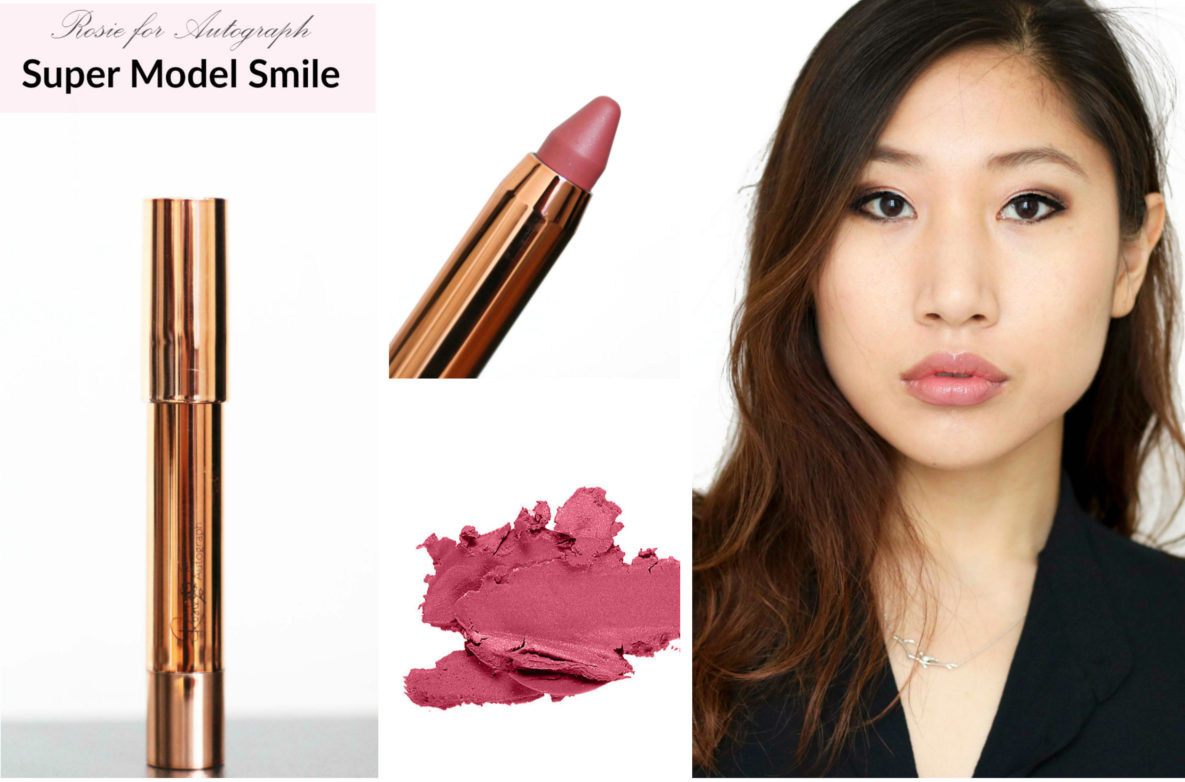 One of the best things about being a blogger is that you get to try so many different brands and products that you would normally not go for. When it comes to makeup, I'm more drawn towards big beauty brands like Lancome, Rimmel, Sleek and so on. Hence, department store's own branded makeup is an unfamiliar territory for me. Marks & Spencer Autograph has been around for a long time, but they've only started working with Rosie Huntington-Whiteley in the recent years, and the Rosie for Autograph collection expanded from sexy lingerie to luscious makeup just a year ago!
The Rosie for Autograph makeup range is really beautiful and classy. The price is mid-ranged, but the packaging makes the collection look a lot more expensive than it really is. I got this Rosie for Autograph Lip Glossy in Super Model Smile in my M&S Beauty Advent Calendar last year! If you got the Marks & Spencer 2016 Advent calendar, then you must have tried out this Rosie for Autograph Lip Glossy as well and I'd love to know what you think!

Shades
Rosie for Autograph Lip Glossy comes in 6 different shades. The one shown here is Super Model Smile and it's got a beautiful pink tone to it. When I saw this in my M&S Advent Calendar, I immediately fell in love with the colour! Super Model Smile looks like a really strong shade in the bullet and on paper, but the colour is really subtle when applied due to the glossy nature. It's also filled with shimmer to give your lips that extra shine.

Texture
The texture of Lip Glossy took me by surprise. Based on what I saw in the bullet, I was expecting a sheer lipstick as opposed to a lip gloss. To me, lip gloss is sticky and comes in a liquid form, not in a bullet. But for Lip Glossy, it feels and looks exactly like a tinted lip gloss when applied. It's also really moisturising and soft without being sticky. The application is simple and definitely more hygienic than traditional lip gloss.

Longevity

Because of the glossy texture, you can't expect the colour to last all day. The moisture lasts for around 3 to 4 hours if I don't eat or drink and the colour also fades over time. I keep forgetting that I'm wearing a lip gloss when using Lip Glossy because it feels really natural on and I keep thinking that it's just a lip balm. It's great for casual wear, but I think I'll still stick to matte lipsticks if I want something that lasts longer.
It was really fun trying out something from Rosie Huntington-Whiteley's makeup range for Marks & Spencer Autograph as you can always rely on Rosie to come up with something stunning! Although the Super Model Smile shade didn't look as vibrant as I had hoped, I still enjoyed using this product as it's given me the chance to branch out and test a new brand. Lip Glossy is a good alternative to lip balm and I will continue to use this product for those days when I just want a moisturising & glossy tint instead of a full on lipstick.
If you want to see more products from my Beauty Swatch Book series, then feel free to check out: Lancôme L'Absolu Rouge – 202 Nuit & Jour and NYX Lip Lingerie – 04 Ruffle Trim
Note: I got this product in an advent calendar which was gifted to me, but I chose to review this product at my own will.